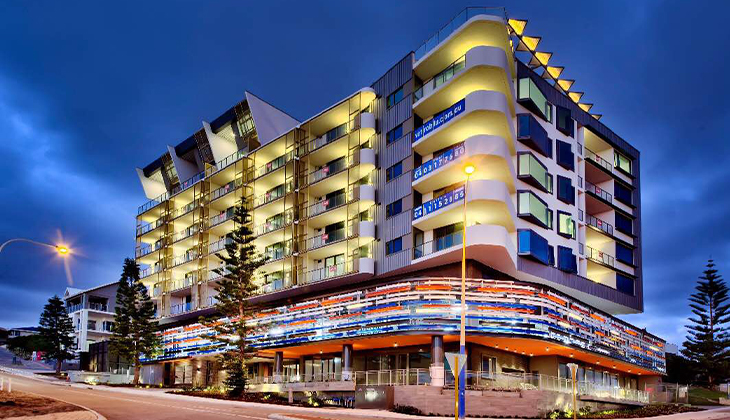 Located in the heart of the beachside suburb of Scarborough in Perth, Ramada VetroBlu Scarborough Beach offers sweeping views of Scarborough Beach and breathtaking sunsets. The hotel is a short drive from Perth's CBD, and the Perth Transit Hub is steps away, making travel easy.
The Associate Resort program offers 1-Bedroom Queen Business Apartments, which feature a kitchenette with microwave, dishwasher and full cooking facilities, full laundry facilities, a balcony with views, 43" TV in lounge and 32" TV in the master bedroom.
Also available at the hotel through the Associate Resort program are 2-Bedroom King Business apartments, which offer a kitchenette with microwave, dishwasher and full cooking facilities including a full-size fridge, separate lounge and dining areas and full laundry facilities. There is a full-size balcony with two outdoor settings, 43" TV in lounge & 32" TV in master bedrooms.
Both apartment types offer complimentary Wi-Fi and in-room movies (charges apply). The hotel has an onsite gym and secure parking (charges apply).
Click here for credit charts and seasonalities.
Booking windows
All reservations are subject to availability. At this point in time, reservations at Ramada by Wyndham VetroBlu Scarborough can be made between now and March 31, 2023.
The following booking windows apply for these two properties and all other Associate Resorts:
CWSP Premier owners: up to 3 months
Lifestyle Bronze: up to 11 months
Lifestyle Silver: up to 12 months
Lifestyle Gold: up to 12 months
Lifestyle Platinum: up to 13 months
100 Club: up to 13 months
Please note all owners have a 13-month booking window for all Club properties. As Associate Resorts are a Developer Benefit, booking windows are set by the Developer.
Terms and conditions
As per previous announcements about Associate Resorts, each reservation at an Associate Resort requires one housekeeping token (you cannot use the complimentary housekeeping benefit). All Club Wyndham South Pacific guidelines and policies apply to Associate Resort bookings, excluding booking windows. No credits will be returned if you cancel after the cancellation date, even if another owner books the same nights as part or all of your original reservation.
Vacation credits utilised for Associate Resort reservations must have a six-month validity. For more terms and conditions, please visit the links for the specific properties.
We are excited to provide you with these additional ways to utilise your ownership through your Associate program.