Heritage Queenstown is positioned overlooking Queenstown's picturesque focal point: the beautiful Lake Wakatipu. The country's famous snow resorts, Coronet Peak and The Remarkables are a short drive away and, in the summer, the snow melts to unveil a natural wonderland for hikers, riders and road trippers to discover.
This is an Associate Resort.  Associate Resorts is a Developer benefit and at its sole discretion, has, from time to time, made available various Associate Resorts to Premier owners who are in good standing. Access is for a limited duration, subject to additional restrictions and may be added, removed or modified by the Developer without notice.  Credits used towards this benefit must have a minimum of six months (180 days) validity to be accepted. Housekeeping token/s or a fee must be tendered when utilising this benefit. Complimentary housekeeping cannot be used in conjunction with this benefit. The booking window to make a reservation at an Associate Resort may vary by location or Lifestyle tier.
Heritage Queenstown
91 Fernhill Road, Queenstown, New Zealand
How to Reach
Amenities
Tour Desk
Outdoor Swimming Pool
Conference Facilities
Sauna
Bike Rentals
Outdoor Spa
Gym
Reception Hours: 24 hours, 7 days

Check In: 3:00 PM Check-Out: 10:00 AM
Pool Hours: 6:00 AM to 10:00 PM
Wi-Fi: Free
Car Parking: Complimentary carparking but is limited.
Onsite Restaurant/Café – Mackenzies: 6:30AM to 9:00PM
Before You Go – Heritage Queenstown
Room Type
Air Conditioning

Heating

Balcony or Deck

Bed Configuration

Bedding in lounge

Internet Access

Kitchen

Dishwasher

Number of Bathrooms

Shower/bath

Washer/Dryer (in unit)

Deluxe Room (Non-Lakeview)
Full
K
--
--
N/A
--
1
S + B
--

Maximum occupancy 2 people
1 x King bed
TV in main bedroom
1 Bathroom – shower and bath
Bar Fridge
Deluxe Room (Non-Lakeview)
Air Conditioning

Full

Heating

Balcony or Deck

Bed Configuration

K

Bedding in lounge

--

Internet Access

--

Kitchen

N/A

Dishwasher

--

Number of Bathrooms

1

Shower/bath

S + B

Washer/Dryer (in unit)

--

Maximum occupancy 2 people
1 x King bed
TV in main bedroom
1 Bathroom – shower and bath
Bar Fridge
Credit Chart & Seasonality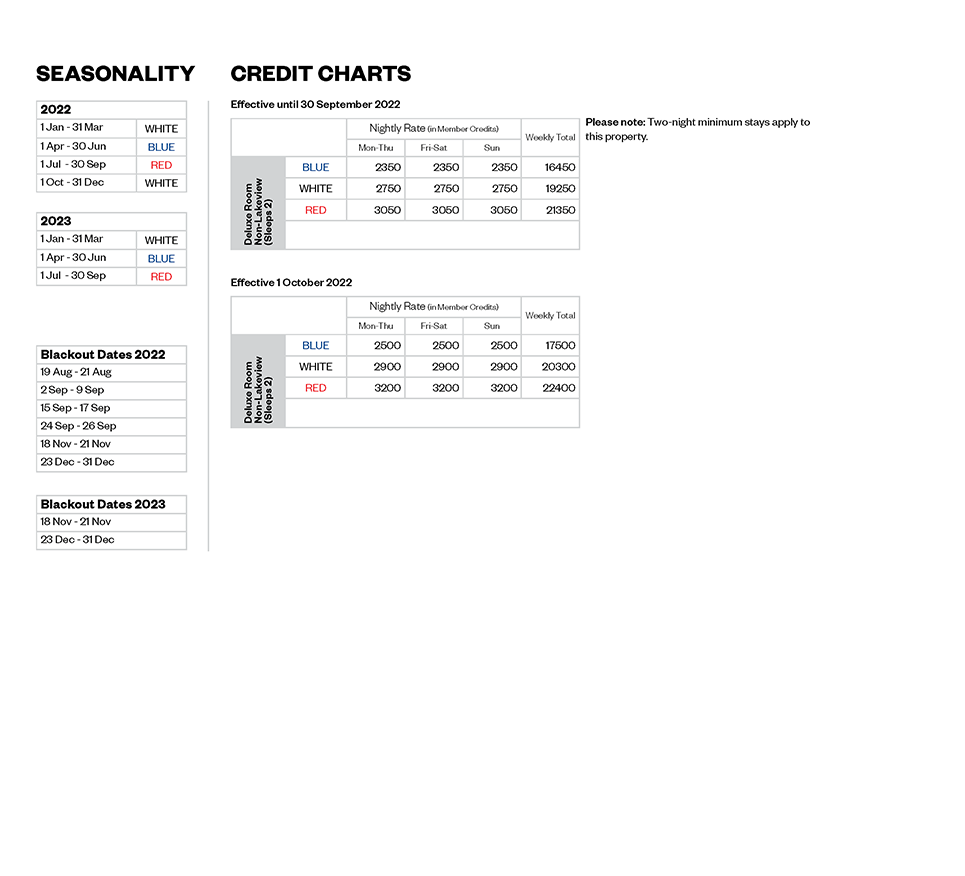 Resort Credit Calculator
Click here to instantly calculate the credits required for your holiday