Login 
Enter your full Owner Number with all preceding 0s, eg. 002012345678 or 00071234567.
Please avoid using auto fill or copy and paste from a saved document as blank spaces can sometimes be included, and your Owner Number or Password will be wrong.
After entering your Owner Number and Password and clicking Login, choose whether you would like to receive a two-factor authentication code by phone or email, by selecting the radio button. This pop-up will display only the last three digits of mobile phone numbers and a few characters and the domain of the email addresses, but that will be enough for you to make a selection.
Access your phone or email account and open the message or email sent to you. Enter the code in the message or email within the 30-minute time frame.
If you do the above steps correctly, then receive a message stating, "Something went wrong, please try again later", you may not be registered for the site or may be using an incorrect Owner Number or Password.
You may need to re-register for the site if you have recently made a change to the ownership listed on your account, eg. a name was removed from your ownership.
If you need to reset your password, please follow the steps below.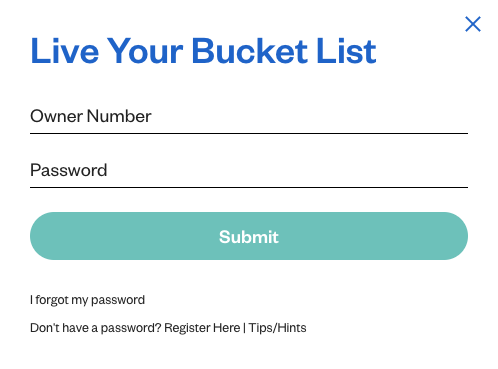 I forgot my password
To reset your password click on 'I forgot my password'. Do not use a mobile device, desktops or tablets are preferred.
1. Enter your Owner Number and Email address and click Send.
2. System will state 'Email Sent'.
3. A reset email will be sent to your email address listed on your account within a couple of minutes.
If you do not receive an email, please check your Spam/Junk mail, try a different device, and do not use a mobile phone.
Have you recently made an account change such as removing one of the owner's names from the account? If so, try to re-register your account.
If you are having problems registering your account, please contact Owner Services so they can double check the details we have on record in our systems.
4. Once you receive the email click on the link in the email within 30 minutes of receiving it.
If you receive the email but the link does not appear to show, check your security setting for your email provider as it may have stripped the link out of the email.
5. You will be redirected, enter Owner Number and Email address.
6. Enter New Password and enter Verify New Password, click Change Password (Note: Password needs 6-12 characters, number and letters only and no special characters).
7. System says 'Set Password Success'.
8. Go to https://clubwyndhamsp.com/.
9. Click on Login.
10. Enter Owner Number and New Password, and the system will log you in.