A gateway to the spectacular Whitsunday Islands, Airlie Beach is a vibrant tropical destination popular with travellers from all over the world. It is the perfect launching pad for activities on the water and in the lush, green rainforest of the Whitsunday Coast. Whether you crave excitement or solitude, seek adventure or quiet relaxation, there is a tour for you! From sailing, scuba diving and snorkelling, to fast jet-boat rides, rainforest tours and flying over the Great Barrier Reef, the Whitsundays has it all!
Boasting a magnificent location overlooking the Whitsunday Passage, Club Wyndham Airlie Beach features an open-air restaurant and bar, infinity pool and spa, gym, conference facilities and undercover parking.
Club Wyndham Airlie Beach Whitsundays
9A Hermitage Drive, Airlie Beach, QLD 4802
How to Reach
Amenities
Infinity pool
Gym
Function rooms
Room service
Board Games
2x Free Shuttle Bus to Airlie Lagoon
Outdoor spa
Restaurant and bar
Parking
WiFi Dongle
Thursday Movie Night
Fishing Gear
Reception Hours: Reception is open 7:00am – 8:00pm
Check-in Time: 4:00pm   Check-out Time: 12:00pm
Pool Hours: 7:00am – 9:00pm
Wi-Fi: Free
Car Parking:  Undercover car parking, clearance ranges from 2m – 3m depending on accommodation block. Body Corporate by-laws do not allow caravans, boats or trailers of any kind on site at any time.
Onsite Restaurant – Tides: Sunday & Monday – Breakfast Only: 7:00am – 10:00am. Tuesday to Saturday –  Breakfast 7.00am – 10.00am  / All Day Dining 11:00am – 9:00pm
Room Type
Air Conditioning

Heating

Balcony or Deck

Bed Configuration

Bedding in lounge

Internet Access

Kitchen

Dishwasher

Number of Bathrooms

Shower/bath

Washer/Dryer (in unit)

1 Bedroom
Full
K
--
--
Medium
1
S + B

Maximum occupancy 2 people
Private balcony
1 x King bed (split)
1 Bathroom – separate shower
Limited cots and highchairs available on request. Please call the resort 24 hours before arrivals to confirm request

1 Bedroom Deluxe
Full
K
--
--
Medium
1
S + B

Maximum occupancy 2 people
Private balcony – varying views however all rooms have full OR partial ocean views.
1 x King bed (split)
1 Bathroom – separate shower
Limited cots and highchairs available on request. Please call the resort 24 hours before arrivals to confirm request

2 Bedroom
Full
K + K
--
--
Medium
2
S + B

Maximum occupancy 4 people
Private balcony
1 x King bed (split), 1 x King bed (split)
2 Bathrooms – Bathroom 1: separate shower, Bathroom 2: shower only
Limited cots and highchairs available on request. Please call the resort 24 hours before arrivals to confirm request
Full kitchen with stove-top, microwave, fridge and dishwasher

2 Bedroom Deluxe
Full
K + K
--
--
Medium
2
S + B

Maximum occupancy 4 people
Private balcony – varying views however all rooms have full OR partial ocean views
1 x King bed (split), 1 x King bed (split)
2 Bathrooms – Bathroom 1: separate shower, Bathroom 2: shower only
Limited cots and highchairs available on request. Please call the resort 24 hours before arrivals to confirm request
Full kitchen with stove-top, microwave, fridge and dishwasher

3 Bedroom Deluxe
Full
K + K + Q
--
--
Full
3
S + B

Maximum occupancy 6 people
Private balcony – rooms have an ocean view
1 x King bed (split), 1 x King bed (split), 1 x Queen bed
3 Bathrooms – Bathroom 1: separate shower  & bath, Bathroom 2 & 3: shower only
Limited cots and highchairs available on request. Please call the resort 24 hours before arrivals to confirm request
Full kitchen with stove-top, microwave, fridge and dishwasher
1 Bedroom
Air Conditioning

Full

Heating

Balcony or Deck

Bed Configuration

K

Bedding in lounge

--

Internet Access

--

Kitchen

Medium

Dishwasher

Number of Bathrooms

1

Shower/bath

S + B

Washer/Dryer (in unit)

Maximum occupancy 2 people
Private balcony
1 x King bed (split)
1 Bathroom – separate shower
Limited cots and highchairs available on request. Please call the resort 24 hours before arrivals to confirm request
1 Bedroom Deluxe
Air Conditioning

Full

Heating

Balcony or Deck

Bed Configuration

K

Bedding in lounge

--

Internet Access

--

Kitchen

Medium

Dishwasher

Number of Bathrooms

1

Shower/bath

S + B

Washer/Dryer (in unit)

Maximum occupancy 2 people
Private balcony – varying views however all rooms have full OR partial ocean views.
1 x King bed (split)
1 Bathroom – separate shower
Limited cots and highchairs available on request. Please call the resort 24 hours before arrivals to confirm request
2 Bedroom
Air Conditioning

Full

Heating

Balcony or Deck

Bed Configuration

K + K

Bedding in lounge

--

Internet Access

--

Kitchen

Medium

Dishwasher

Number of Bathrooms

2

Shower/bath

S + B

Washer/Dryer (in unit)

Maximum occupancy 4 people
Private balcony
1 x King bed (split), 1 x King bed (split)
2 Bathrooms – Bathroom 1: separate shower, Bathroom 2: shower only
Limited cots and highchairs available on request. Please call the resort 24 hours before arrivals to confirm request
Full kitchen with stove-top, microwave, fridge and dishwasher
2 Bedroom Deluxe
Air Conditioning

Full

Heating

Balcony or Deck

Bed Configuration

K + K

Bedding in lounge

--

Internet Access

--

Kitchen

Medium

Dishwasher

Number of Bathrooms

2

Shower/bath

S + B

Washer/Dryer (in unit)

Maximum occupancy 4 people
Private balcony – varying views however all rooms have full OR partial ocean views
1 x King bed (split), 1 x King bed (split)
2 Bathrooms – Bathroom 1: separate shower, Bathroom 2: shower only
Limited cots and highchairs available on request. Please call the resort 24 hours before arrivals to confirm request
Full kitchen with stove-top, microwave, fridge and dishwasher
3 Bedroom Deluxe
Air Conditioning

Full

Heating

Balcony or Deck

Bed Configuration

K + K + Q

Bedding in lounge

--

Internet Access

--

Kitchen

Full

Dishwasher

Number of Bathrooms

3

Shower/bath

S + B

Washer/Dryer (in unit)

Maximum occupancy 6 people
Private balcony – rooms have an ocean view
1 x King bed (split), 1 x King bed (split), 1 x Queen bed
3 Bathrooms – Bathroom 1: separate shower  & bath, Bathroom 2 & 3: shower only
Limited cots and highchairs available on request. Please call the resort 24 hours before arrivals to confirm request
Full kitchen with stove-top, microwave, fridge and dishwasher
Credit Chart & Seasonality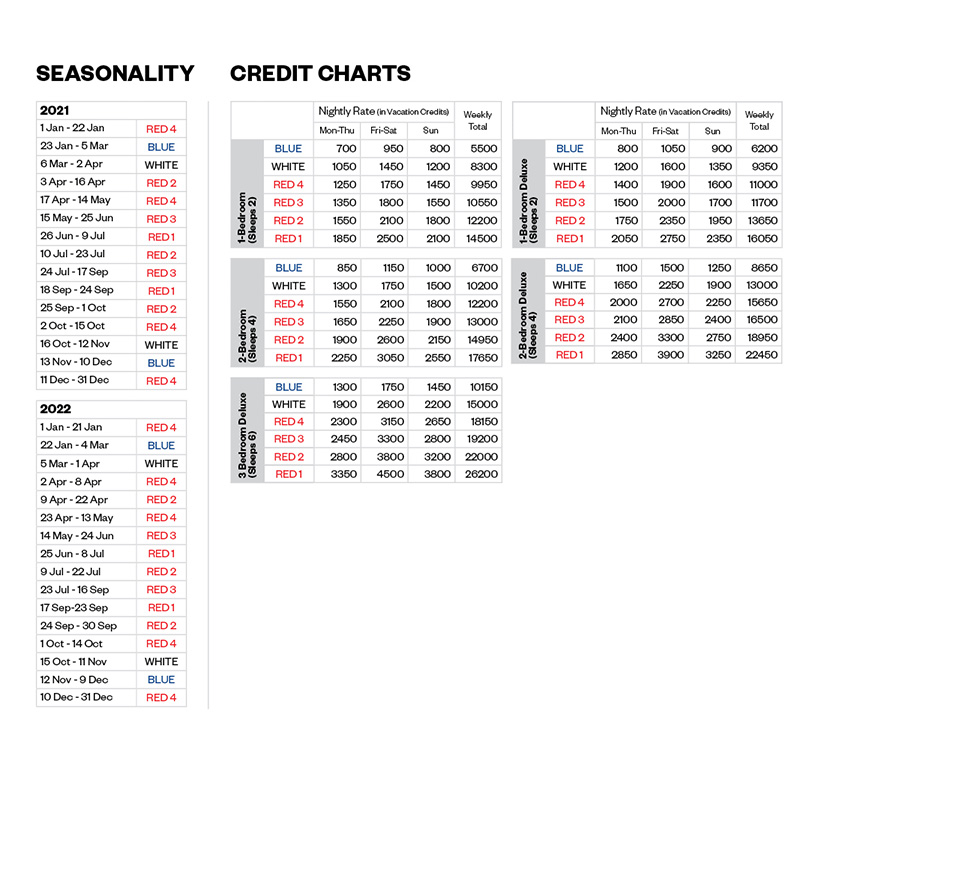 Resort Credit Calculator
Click here to instantly calculate the credits required for your holiday