Wyndham Tamansari Jivva Resort Bali
Pantai Lepang, Jl. Subak Lepang No. 16, Klungkung, Bali 80752
+623665437988
Due to the impact of Covid-19, availability at this resort has been suspended indefinitely.
Discover a tropical paradise on the black sands of the eastern coast of Bali, Indonesia. Nestled in a lush landscape along the crystal-clear blue waters of the Bali Sea, off the Indian Ocean, this spectacular beachfront resort features locally inspired rooms, with a modern design of Indonesian inspiration.
Whether you are looking out at the crashing waves on Lepang beach or resting on a lounge chair by the pool, you will feel refreshed by the tranquil atmosphere of this breathtaking Bali location. Take in sunsets with a delicious signature cocktails in hand as the hum of waves divert you.
In addition to a sensational beachfront location, Wyndham Tamansari Jivva Resort Bali offers must-have services and amenities for your comfort. Popular features of the resort includes a gorgeous outdoor pool with ocean and garden views, Bumbu Restaurants and Jivva Beach Club.
Escape from the ordinary to this tranquil Jivva, Bali resort and embrace an exotic island destination that enchants your spirit.
Wyndham Tamansari Jivva Resort Bali
Pantai Lepang, Jl. Subak Lepang No. 16, Klungkung, Bali 80752
How to Reach
Amenities
Outdoor pool
Parking
Function Centre
Restaurant and bar
Laundry facilities
Boardroom
Internet access
Lounge
Reception Hours: 24 hours
Check-in Time: 2:00pm    Check-out Time: 10:00am
Remote Location: This resort is located in a peaceful remote area of Bali with no public transport.  Closest City is 6 km away (approx 10-15 mins), 21-26 km from UBud (approx. 45 minute drive) and 40 km from Kuta or Seminyak (approx. 1 – 1.5 hour drive)
Accessibility: There are stairs and elevators leading to all rooms. A Ground/lower floor can be requested at time of booking, however cannot be guaranteed.
Breakfast Fee:IDR 150,000 Nett per person (approx $15 AUD at todays exchange rate)
Tax: Standard 21% Service Tax is applicable.
Passport & Visa: Please remember a passport with 6 months validity is required to enter Indonesia. No Visa application required.
Privileges Benefits: This property is a contracted resort and is not managed by Wyndham therefore Privileges benefits do not apply.
Before You Go – Klungkung, Bali
Please note:
Bookings are available for stays until 30 June 2020
Rooms cannot be booked within 14 days prior to check-in
*Associate Resorts are an additional benefit offered by the developer, Wyndham Destinations Asia Pacific, and provide more destinations for Privileges Members throughout Asia and the South Pacific. Associate Resorts are not owned by Club Wyndham South Pacific  but have been carefully selected to offer a variety of locations and maintain quality and service. Privileges Members can access Associate Resort reservations 13 months in advance, and Privileges Elite, Diamond and Platinum Members have a 14-month booking window. Club Wyndham South Pacific Premier Owners, who are not Privileges Members, are granted limited access to some Associate Resorts and are subject to additional restrictions as determined by Wyndham Destinations Asia Pacific from time to time. Where the Privileges logo appears on the Associate Resort page, please note this resort is available to Privileges Members only. Wyndham Destinations Asia Pacific may remove or modify Associate Resorts without notice at any time.
Room Type
Air Conditioning

Heating

Balcony or Deck

Bed Configuration

Bedding in lounge

Internet Access

Kitchen

Dishwasher

Number of Bathrooms

Shower/bath

Washer/Dryer (in unit)

Hotel Garden View
Full
--
--
K
--
-
--
1
S
--

Recommended occupancy 2
Maximum Occupancy 2
King bed (or twin on request)
Free Wi-Fi
LED TV with premium channels
Food & drink – minibar, coffee/tea maker
Air conditioning, climate control
Separate bathroom with shower, bathrobes and slippers
Safe and desk
24.5m2

Hotel Deluxe - Sea Breeze
Full
--
K
--
-
--
1
S
--

Recommended occupancy 2 – a 3rd person can be accommodated on a rollaway bed.  Beds available on request for an additional fee payable to resort (see Before You Go – Klungkung, Bali page for more information) – Must not exceed maximum occupancy
King Bed (or twin on request)
Free Wi-Fi
LED TV with premium channels
Food & drink – minibar, coffee/tea maker – NO KITCHEN
Air conditioning, climate control
Separate bathroom with shower, bathrobes and slippers
Safe and desk
Rollaway/ extra beds and free cribs/ infant beds available on request
Wooden deck terrace
Partial Ocean View
45m2

Hotel Pool Suite Ocean View
Full
--
K
--
-
--
1
S
--

Recommended occupancy 2 – a 3rd person can be accommodated on a rollaway bed.  Beds available on request for an additional fee payable to resort (see Before You Go – Klungkung, Bali page for more information) – Must not exceed maximum occupancy
King bed (or twin on request)
Free Wi-Fi
LED TV with premium channels
Food & drink – minibar, coffee/tea maker – NO KITCHEN
Air conditioning, climate control
Separate bathroom with shower, bathrobes and slippers
Safe and desk
Rollaway/ extra beds and free cribs/ infant beds available on request
Plunge pool on the terrace
60m2
Hotel Garden View
Air Conditioning

Full

Heating

--

Balcony or Deck

--

Bed Configuration

K

Bedding in lounge

--

Internet Access

Kitchen

-

Dishwasher

--

Number of Bathrooms

1

Shower/bath

S

Washer/Dryer (in unit)

--

Recommended occupancy 2
Maximum Occupancy 2
King bed (or twin on request)
Free Wi-Fi
LED TV with premium channels
Food & drink – minibar, coffee/tea maker
Air conditioning, climate control
Separate bathroom with shower, bathrobes and slippers
Safe and desk
24.5m2
Hotel Deluxe - Sea Breeze
Air Conditioning

Full

Heating

--

Balcony or Deck

Bed Configuration

K

Bedding in lounge

--

Internet Access

Kitchen

-

Dishwasher

--

Number of Bathrooms

1

Shower/bath

S

Washer/Dryer (in unit)

--

Recommended occupancy 2 – a 3rd person can be accommodated on a rollaway bed.  Beds available on request for an additional fee payable to resort (see Before You Go – Klungkung, Bali page for more information) – Must not exceed maximum occupancy
King Bed (or twin on request)
Free Wi-Fi
LED TV with premium channels
Food & drink – minibar, coffee/tea maker – NO KITCHEN
Air conditioning, climate control
Separate bathroom with shower, bathrobes and slippers
Safe and desk
Rollaway/ extra beds and free cribs/ infant beds available on request
Wooden deck terrace
Partial Ocean View
45m2
Hotel Pool Suite Ocean View
Air Conditioning

Full

Heating

--

Balcony or Deck

Bed Configuration

K

Bedding in lounge

--

Internet Access

Kitchen

-

Dishwasher

--

Number of Bathrooms

1

Shower/bath

S

Washer/Dryer (in unit)

--

Recommended occupancy 2 – a 3rd person can be accommodated on a rollaway bed.  Beds available on request for an additional fee payable to resort (see Before You Go – Klungkung, Bali page for more information) – Must not exceed maximum occupancy
King bed (or twin on request)
Free Wi-Fi
LED TV with premium channels
Food & drink – minibar, coffee/tea maker – NO KITCHEN
Air conditioning, climate control
Separate bathroom with shower, bathrobes and slippers
Safe and desk
Rollaway/ extra beds and free cribs/ infant beds available on request
Plunge pool on the terrace
60m2
Credit Chart & Seasonality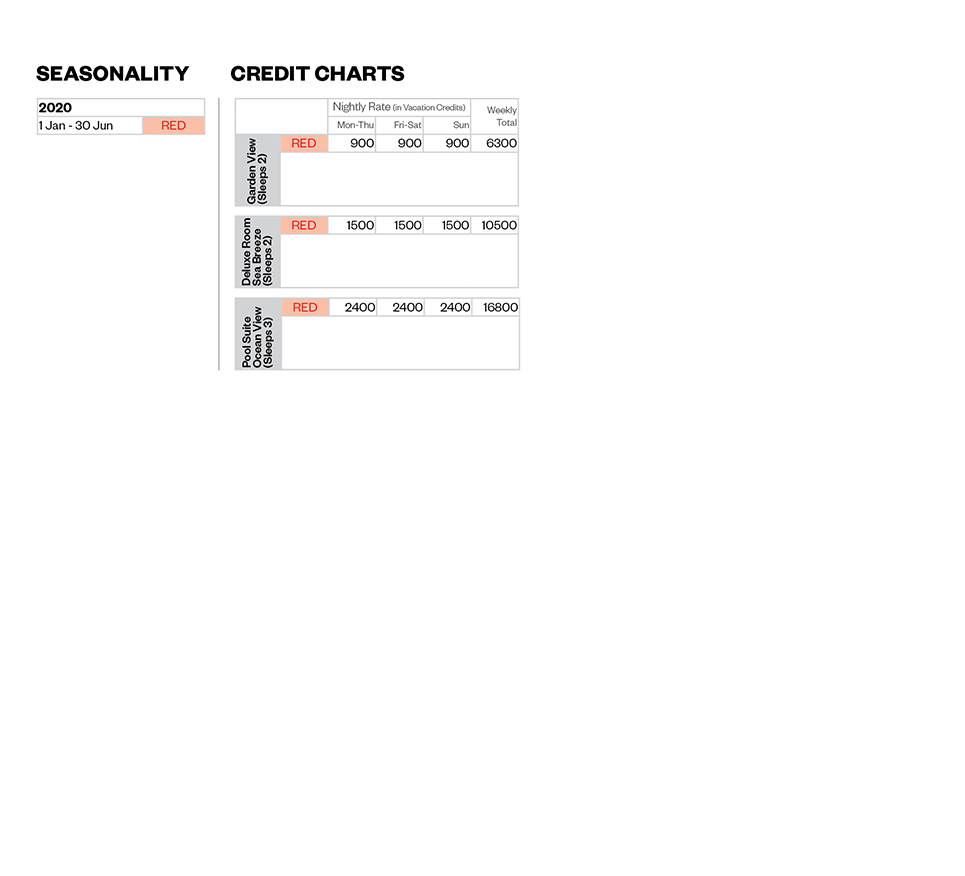 Resort Credit Calculator
Click here to instantly calculate the credits required for your holiday