Club Wyndham Bavaria
Karma Bavaria, Kirchbichlweg 18, Schliersee, Bavaria, D-83727, Germany
+49 80 26 60 80
Picture perfect views, historic towns, diverse adventures, and time honoured customs and traditions make Bavaria one of the world's most interesting and top rated tourist destinations on the planet.
Club Wyndham Bavaria is located in the foothills of the Bavarian Alps, and in the winter, the region is a snowy wonderland. Ski, snowboard or skate on nearby Lake Schliersee, take a horse drawn sleigh through the snow, or travel in the warmer months and admire the mountainous countryside on a hike or bike ride. The resort is the perfect base to explore this historic part of Germany. The fairytale Castle Von Neuschwanstein is nearby, while Munich and Salzburg are easily accessible for day trips.
Club Wyndham Bavaria boasts outstanding resort facilities including an indoor heated pool with waterfall, Jacuzzi, kids' club, nine pin bowling alley and games room, onsite restaurant and bar.
Club Wyndham Bavaria
Karma Bavaria, Kirchbichlweg 18, Schliersee, Bavaria, D-83727, Germany
How to Reach
Amenities
24-hour reception
Conference facilities
DVD hire
Day spa
Cocktail bar and lounge
Heated indoor pool with waterfall
Steam room
Kids' club
Nine-pin bowling alley
Communal laundry facilities
Tour desk
Complimentary Wi-Fi
Gift shop
Room service
Restaurant
Spa
Gym
Games room
Bike hire
Reception Hours: 24 Hours
Check-in Time: 4:00pm    Check-out Time: 12:00pm
Pool Hours: Open 7:00am – 10:00pm
Car Parking: Free outdoor on-site car parking.
Laundry: Communal laundry facilities – charges apply.
Luggage: Dedicated luggage room to store luggage for guests after check out, or before check in is available. Please note that items are left unattended at the owner's risk.
Taxes: This property requires a spa fee/tourist tax to be collected upon check in, this entitles you to free and discounted benefits card provided by the resort.
Ski Area :  Only 9 km to the Ski Slopes in Tegernsee, which are open 8:00am – 5:00pm daily, ski equipment available for hire . Free local bus to the ski lifts (6 km away) with bus pass from hotel. There is also a ski area is located at Spitzingsee and seasonal, open November – March annually, though this is dependent according to the snow. There is a complimentary bus for guests from Schliersee to Spitzingsee.
Before You Go – Bavaria, Germany
Room Type
Air Conditioning

Heating

Balcony or Deck

Bed Configuration

Bedding in lounge

Internet Access

Kitchen

Dishwasher

Number of Bathrooms

Shower/bath

Washer/Dryer (in unit)

Studio Deluxe
No
K
--
Medium
--
1
SB
--

Maximum occupancy 2 people – 1 x King size bed
1 x Bathroom with shower over bath
Medium kitchen – 2 burners, microwave, toaster, small fridge
Dining setting
Balcony with outdoor setting
Full heating (No air-conditioning)
No laundry
3rd floor with alpine view (elevator access)

*Rollaway beds, cots and highchairs are available – Charges apply

1 Bedroom Deluxe
No
--
K
Medium
--
2
SB
--

Maximum occupancy 4 people – 1 x King size bed, 1 x Double sofa bed
2 x Bathrooms with shower over bath
Medium kitchen – 2 burners, microwave, toaster, small fridge
Dining setting
Full heating (No air-conditioning)
No laundry
2nd floor with alpine view – no balcony (elevator access)

*Rollaway beds, cots and highchairs are available – Charges apply
Studio Deluxe
Air Conditioning

No

Heating

Balcony or Deck

Bed Configuration

K

Bedding in lounge

--

Internet Access

Kitchen

Medium

Dishwasher

--

Number of Bathrooms

1

Shower/bath

SB

Washer/Dryer (in unit)

--

Maximum occupancy 2 people – 1 x King size bed
1 x Bathroom with shower over bath
Medium kitchen – 2 burners, microwave, toaster, small fridge
Dining setting
Balcony with outdoor setting
Full heating (No air-conditioning)
No laundry
3rd floor with alpine view (elevator access)

*Rollaway beds, cots and highchairs are available – Charges apply
1 Bedroom Deluxe
Air Conditioning

No

Heating

Balcony or Deck

--

Bed Configuration

K

Bedding in lounge

Internet Access

Kitchen

Medium

Dishwasher

--

Number of Bathrooms

2

Shower/bath

SB

Washer/Dryer (in unit)

--

Maximum occupancy 4 people – 1 x King size bed, 1 x Double sofa bed
2 x Bathrooms with shower over bath
Medium kitchen – 2 burners, microwave, toaster, small fridge
Dining setting
Full heating (No air-conditioning)
No laundry
2nd floor with alpine view – no balcony (elevator access)

*Rollaway beds, cots and highchairs are available – Charges apply
Credit Chart & Seasonality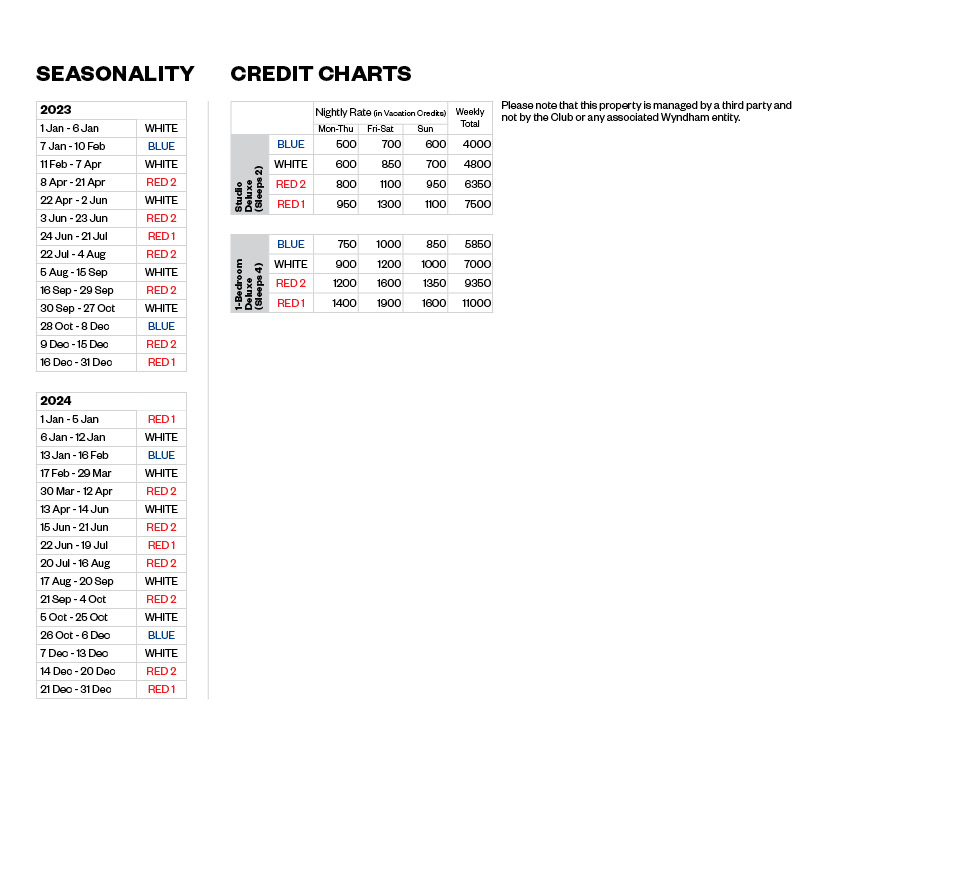 Resort Credit Calculator
Click here to instantly calculate the credits required for your holiday