California's Coastal Gem. San Diego is renowned for its year-round sunny skies, pleasant temperatures and beautiful beaches. It is also one of the largest cities in the country, with a thriving downtown scene. For those who'd prefer calmer accommodations while still having access to the best of San Diego, WorldMark Mission Valley is the perfect choice. Located in the quiet suburb of Mission Valley, the resort is only 4.5 miles from Balboa Park, the nation's largest urban cultural park. You'll also be within easy reach of San Diego's finest restaurants, shops, nightlife, museums, golf, sporting events and animal attractions.
WorldMark Mission Valley
425 Camino Del Rio South San Diego, CA 92108
How to Reach
Amenities
Barbecue Area
Game Room
Laundry Facilities
Fitness Center
Hot Tub (Outdoor)
Swimming Pool (Heated/Outdoor) Activities & Attract
Reception Hours: 24 hours
Check-in Time: 4:00pm    Check-out Time: 10:00am
Pool & Hot Tub Information: Pool is open 8:00 am to 10:00 pm. Children in diapers must wear waterproof diapers designed for swimming. There are no lifeguards on duty. Please refer to posted pool signage for more specific information.
Car Parking: Parking is limited to one vehicle per unit at WorldMark Mission Valley and the resort is unable to accommodate the storage of boats, RVs and trailers. There is a vehicle height limit of 6' 10". Your room key will be needed to open the garage gate. Please obtain a parking permit for all vehicles from the Front Desk.
WorldMark, The Club: WorldMark, The Club is Club Wyndham South Pacific's sister club, which provides eligible Club Wyndham South Pacific Owners more holiday options at selected resorts throughout the United States, Mexico and Canada.
Access to WorldMark, The Club resorts is made available through The Exchange Network ('TEN') agreement, which is an agreement between Wyndham Destinations Asia Pacific ('the Developer') and its parent company, Wyndham Resort Development Corporation. Through TEN, this Developer benefit is provided to eligible Club Wyndham South Pacific Owners who may exchange their right to use apartments in Club Wyndham South Pacific resorts for the right to use apartments at WorldMark, The Club resorts. This Developer benefit is separate from Ownership in Club Wyndham South Pacific. For full details, please visit the PDS.
Room Type
Air Conditioning

Heating

Balcony or Deck

Bed Configuration

Bedding in lounge

Internet Access

Kitchen

Dishwasher

Number of Bathrooms

Shower/bath

Washer/Dryer (in unit)

1 Bedroom
Full
--
K
--
Full
--
1
--
--

Maximum occupancy 4
King in master*, queen sleeper sofa in living area
Full kitchen
Balcony / Patio

Room Types:

1 Bedroom
1 Bedroom – Less Desirable (Unit is in a less desirable location with view of retaining wall or rooftop)

1 Bedroom – Special Needs (Queen in master, grab bars, roll under sink, roll-in shower)

2 Bedroom
Full
--
K + Q
--
Full
--
--
--
--

Maximum occupancy 6
Queen sleeper sofa in living area
Full Kitchen
Balcony / patio
Smaller than typical unit

Room Types:

2 Bedroom 1.5 bath
2 Bedroom – Less Desirable (King bed in master, 2 x twin beds in second room)
2 Bedroom – Queen (Queen beds in both rooms)
2 Bedroom – Queen Special Needs (Queen beds in both rooms, Grab bars, roll under sink, roll-in shower)
2 Bedroom – Twin (King in master, 2 x twin beds in second room)
1 Bedroom
Air Conditioning

Full

Heating

--

Balcony or Deck

Bed Configuration

K

Bedding in lounge

Internet Access

--

Kitchen

Full

Dishwasher

--

Number of Bathrooms

1

Shower/bath

--

Washer/Dryer (in unit)

--

Maximum occupancy 4
King in master*, queen sleeper sofa in living area
Full kitchen
Balcony / Patio

Room Types:

1 Bedroom
1 Bedroom – Less Desirable (Unit is in a less desirable location with view of retaining wall or rooftop)

1 Bedroom – Special Needs (Queen in master, grab bars, roll under sink, roll-in shower)
2 Bedroom
Air Conditioning

Full

Heating

--

Balcony or Deck

Bed Configuration

K + Q

Bedding in lounge

Internet Access

--

Kitchen

Full

Dishwasher

--

Number of Bathrooms

--

Shower/bath

--

Washer/Dryer (in unit)

--

Maximum occupancy 6
Queen sleeper sofa in living area
Full Kitchen
Balcony / patio
Smaller than typical unit

Room Types:

2 Bedroom 1.5 bath
2 Bedroom – Less Desirable (King bed in master, 2 x twin beds in second room)
2 Bedroom – Queen (Queen beds in both rooms)
2 Bedroom – Queen Special Needs (Queen beds in both rooms, Grab bars, roll under sink, roll-in shower)
2 Bedroom – Twin (King in master, 2 x twin beds in second room)
Credit Chart & Seasonality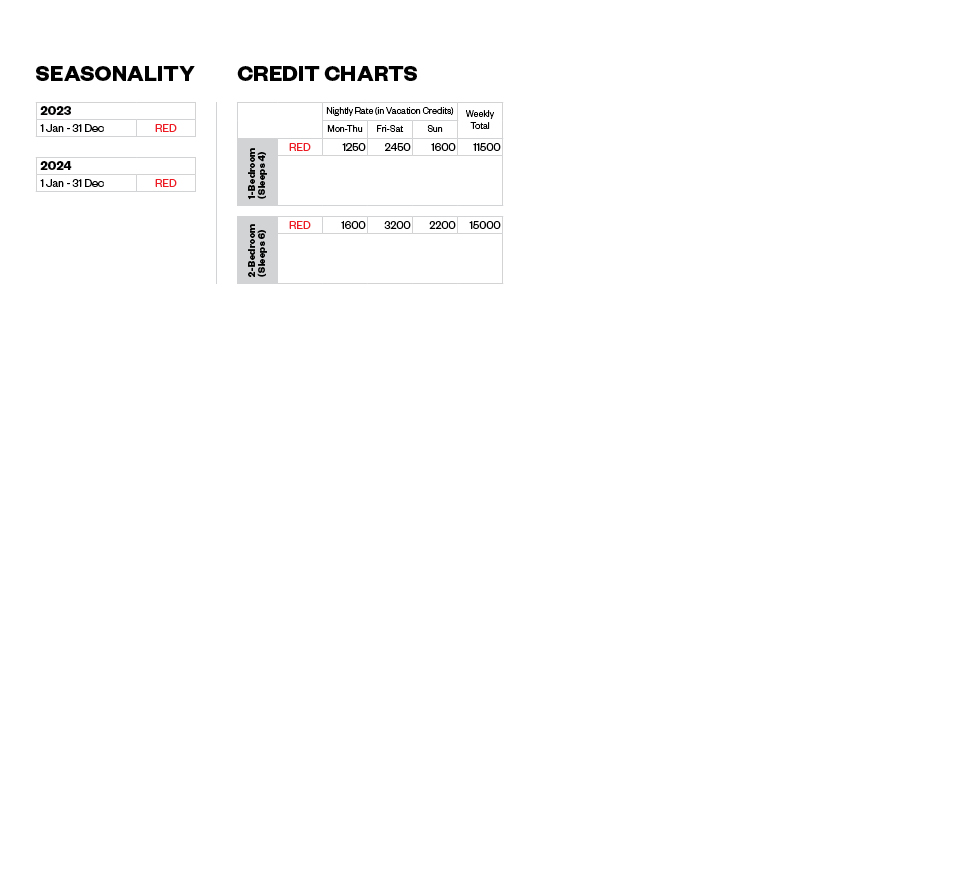 Resort Credit Calculator
Click here to instantly calculate the credits required for your holiday