Club Wyndham Sea Pearl Phuket
12/1-9 Prabaramee Rd., Patong, Phuket 83150, Patong, Kathu District, Phuket 83150, Thailand
0011 6676 303500
Set on 16 acres of lush hilltop with views of Patong Bay and the Andaman Sea, Club Wyndham Sea Pearl features individually designed and decorated to combine comfort and convenience with sophistication and refinement. The resort boasts excellent facilities, including eight swimming pools onsite.  Peace and Tranquility are bywords of the Sea Pearl Resort, yet with the bustle and excitement of Patong beach only a short distance away.
Club Wyndham Sea Pearl Phuket
12/1-9 Prabaramee Rd., Patong, Phuket 83150, Patong, Kathu District, Phuket 83150, Thailand
How to Reach
Amenities
24-hour reception
Fitness centre with gym
Function rooms
Room service
Children's playground
8 Swimming pools
Day spa
Restaurant and bar
Laundry facilities
Kids club
Reception Hours: 24 hours
Check-in Time: 4:00pm   Check-out Time: 12noon
Pool Hours: 7:00am – 9:00pm
Accessibilty: Resort is a 2 storey walk up building with no elevator. All units have stairs leading to them. The resort does not have elevator access to Club Wyndham rooms and is not recommended for guests with mobility limitations. 1 Bed Grand, 1 Bedroom Grand Pool Suite, Dlx Hotel Queen & 3 Bed Dlx units are on first floors (upstairs), Dlx Hotel Twin and 2 Bedroom Grand Pool Suites are on ground floor, 2 Bed Dlx are on ground & first floor (ground floor can be requested but not guaranteed). All units have stairs leading to them and may not be suitable for those with mobility issues.
Shuttle Bus: Club Wyndham Sea Pearl offers a free shuttle bus to Patong Beach and Jungceylon shopping mall
Carissa Day Spa:   A 5-star facility in an Asian modern contemporary décor with an undersea concept. 8 individual luxurious treatment rooms with its own bathroom shower and wardrobe. For those special occasions try the Grand couples suite with an oversized Jacuzzi. All rooms are equipped with an iPod docking station adding a personal touch to the overall experience from your very own audio library. All treatments at Carissa Spa starts with our signature foot 'ritual'. Carissa Spa only uses the highest quality products such as Dermalogica, a leading brand of skin-care products.
Airport Transfer Requirement: This service incurs a fee, which is payable directly to the Resort. Flight details must be confirmed with the hotel 48 hours prior to each pickup time. Email resort directly for airport transfers: rsvn@wyndhamseapearlphuket.com. Airport shuttle fee: THB 2200 per vehicle (one way) for 3 guests.
Room Type
Air Conditioning

Heating

Balcony or Deck

Bed Configuration

Bedding in lounge

Internet Access

Kitchen

Dishwasher

Number of Bathrooms

Shower/bath

Washer/Dryer (in unit)

Deluxe Hotel
Full
--
K
--
No
--
1
S
--

Recommended occupancy 2
Maximum occupancy 3 (Rollaway beds available on request for 3rd person for an additional fee (see Before You Go – Sea Pearl, Phuket page for more information) – Must not exceed maximum occupancy
One-room unit
Bathroom with shower
Ambient outdoor Jacuzzi
Balcony / terrace
Mini bar
Coffee / tea making facilities & no kitchen
LCD TV
In room safe
Hair dryer
Free WiFi
Air conditioning
Bathrobes & slippers

* Limited Cots available free of charge, on Request. This resort does not have highchairs available

Room Types:

Deluxe Hotel – King – King size bed (cannot be split)
Deluxe Hotel Twin – 2 x Single beds (can not be joined)

1 Bedroom Grand
Full
--
K
--
No
--
1
S + B
--

Recommended occupancy 2
Maximum occupancy 3 (Rollaway beds available on request for 3rd person for an additional fee (see Before You Go – Sea Pearl, Phuket page for more information) – Must not exceed maximum occupancy
100 sqm
King size bed (cannot be split)
Bedroom and living room
Separate bathroom with bathtub & walk in shower
Ambient outdoor Jacuzzi on the wooden deck terrace
Balcony / terrace
Mini bar and microwave, coffee / tea making facilities only – no kitchen
LCD TV
In room safe
Hair dryer
Free WiFi
Air conditioning, ceiling fan
Bathrobes & slippers

* Limited Cots available free of charge, on Request. This resort does not have highchairs available

1 Bedroom Grand Pool Suite
Full
--
K
Partial
--
1
S + B
--

Maximum occupancy 4 people
1 King size bed (cannot be split) and Double sofa bed in lounge
1 bathroom with separate bathtub & shower
Private pool
Balcony / terrace
Partial kitchen with microwave, toaster and full-size fridge
LCD TV
In room safe
Hair dryer
Free WiFi
Air conditioning with climate control and ceiling fan
Bathrobes & slippers

* Limited Cots available free of charge, on Request. This resort does not have highchairs available

2 Bedroom Deluxe
Full
--
K + SS
--
No
--
1
S + B
--

Maximum occupancy 4 people
100 sqm
1 King size bed (cannot be split) and 2 Singles can be joined
2 bedrooms and living room
Separate bathroom with bathtub & shower, separate toilet
Ambient outdoor Jacuzzi on the wooden deck terrace
Balcony / terrace
Mini bar and microwave, coffee / tea making facilities only – no kitchen
LCD TV
In room safe
Hair dryer
Free WiFi
Air conditioning with climate control and ceiling fan
Bathrobes & slippers

* Limited Cots available free of charge, on Request. This resort does not have highchairs available

2 Bedroom Grand Pool Suite
Full
--
K + SS
Partial
--
2
S
--

Maximum occupancy 6
King bed (cannot be split), King split in second bedroom
and Double sofa bed in lounge
2 bathrooms with shower only
Private pool
Balcony / terrace
Partial kitchen with microwave, toaster and full size fridge
LCD TV
In room safe
Hair dryer
Free WiFi
Air conditioning
 Bathrobes & slippers

* Limited Cots available free of charge, on Request. This resort does not have highchairs available

3 Bedroom Deluxe
Full
--
K + K +SS
--
No
--
2
S + B
--

Maximum occupancy 6 people
148 sqm
2 King size beds(cannot be split) and 2 Singles (can be joined)
3 bedrooms and living room
2 separate bathroom with bathtub (one) & walk in shower, separate toilet
Double sized Jacuzzi on the wooden deck terrace
Balcony / terrace
Mini bar and microwave, coffee / tea making facilities only – no kitchen
LCD TV
In room safe
Hair dryer
Free WiFi
Air conditioning with climate control and ceiling fan
Bathrobes & slippers

* Limited Cots available free of charge, on Request. This resort does not have highchairs available
Deluxe Hotel
Air Conditioning

Full

Heating

--

Balcony or Deck

Bed Configuration

K

Bedding in lounge

--

Internet Access

Kitchen

No

Dishwasher

--

Number of Bathrooms

1

Shower/bath

S

Washer/Dryer (in unit)

--

Recommended occupancy 2
Maximum occupancy 3 (Rollaway beds available on request for 3rd person for an additional fee (see Before You Go – Sea Pearl, Phuket page for more information) – Must not exceed maximum occupancy
One-room unit
Bathroom with shower
Ambient outdoor Jacuzzi
Balcony / terrace
Mini bar
Coffee / tea making facilities & no kitchen
LCD TV
In room safe
Hair dryer
Free WiFi
Air conditioning
Bathrobes & slippers

* Limited Cots available free of charge, on Request. This resort does not have highchairs available

Room Types:

Deluxe Hotel – King – King size bed (cannot be split)
Deluxe Hotel Twin – 2 x Single beds (can not be joined)
1 Bedroom Grand
Air Conditioning

Full

Heating

--

Balcony or Deck

Bed Configuration

K

Bedding in lounge

--

Internet Access

Kitchen

No

Dishwasher

--

Number of Bathrooms

1

Shower/bath

S + B

Washer/Dryer (in unit)

--

Recommended occupancy 2
Maximum occupancy 3 (Rollaway beds available on request for 3rd person for an additional fee (see Before You Go – Sea Pearl, Phuket page for more information) – Must not exceed maximum occupancy
100 sqm
King size bed (cannot be split)
Bedroom and living room
Separate bathroom with bathtub & walk in shower
Ambient outdoor Jacuzzi on the wooden deck terrace
Balcony / terrace
Mini bar and microwave, coffee / tea making facilities only – no kitchen
LCD TV
In room safe
Hair dryer
Free WiFi
Air conditioning, ceiling fan
Bathrobes & slippers

* Limited Cots available free of charge, on Request. This resort does not have highchairs available
1 Bedroom Grand Pool Suite
Air Conditioning

Full

Heating

--

Balcony or Deck

Bed Configuration

K

Bedding in lounge

Internet Access

Kitchen

Partial

Dishwasher

--

Number of Bathrooms

1

Shower/bath

S + B

Washer/Dryer (in unit)

--

Maximum occupancy 4 people
1 King size bed (cannot be split) and Double sofa bed in lounge
1 bathroom with separate bathtub & shower
Private pool
Balcony / terrace
Partial kitchen with microwave, toaster and full-size fridge
LCD TV
In room safe
Hair dryer
Free WiFi
Air conditioning with climate control and ceiling fan
Bathrobes & slippers

* Limited Cots available free of charge, on Request. This resort does not have highchairs available
2 Bedroom Deluxe
Air Conditioning

Full

Heating

--

Balcony or Deck

Bed Configuration

K + SS

Bedding in lounge

--

Internet Access

Kitchen

No

Dishwasher

--

Number of Bathrooms

1

Shower/bath

S + B

Washer/Dryer (in unit)

--

Maximum occupancy 4 people
100 sqm
1 King size bed (cannot be split) and 2 Singles can be joined
2 bedrooms and living room
Separate bathroom with bathtub & shower, separate toilet
Ambient outdoor Jacuzzi on the wooden deck terrace
Balcony / terrace
Mini bar and microwave, coffee / tea making facilities only – no kitchen
LCD TV
In room safe
Hair dryer
Free WiFi
Air conditioning with climate control and ceiling fan
Bathrobes & slippers

* Limited Cots available free of charge, on Request. This resort does not have highchairs available
2 Bedroom Grand Pool Suite
Air Conditioning

Full

Heating

--

Balcony or Deck

Bed Configuration

K + SS

Bedding in lounge

Internet Access

Kitchen

Partial

Dishwasher

--

Number of Bathrooms

2

Shower/bath

S

Washer/Dryer (in unit)

--

Maximum occupancy 6
King bed (cannot be split), King split in second bedroom
and Double sofa bed in lounge
2 bathrooms with shower only
Private pool
Balcony / terrace
Partial kitchen with microwave, toaster and full size fridge
LCD TV
In room safe
Hair dryer
Free WiFi
Air conditioning
 Bathrobes & slippers

* Limited Cots available free of charge, on Request. This resort does not have highchairs available
3 Bedroom Deluxe
Air Conditioning

Full

Heating

--

Balcony or Deck

Bed Configuration

K + K +SS

Bedding in lounge

--

Internet Access

Kitchen

No

Dishwasher

--

Number of Bathrooms

2

Shower/bath

S + B

Washer/Dryer (in unit)

--

Maximum occupancy 6 people
148 sqm
2 King size beds(cannot be split) and 2 Singles (can be joined)
3 bedrooms and living room
2 separate bathroom with bathtub (one) & walk in shower, separate toilet
Double sized Jacuzzi on the wooden deck terrace
Balcony / terrace
Mini bar and microwave, coffee / tea making facilities only – no kitchen
LCD TV
In room safe
Hair dryer
Free WiFi
Air conditioning with climate control and ceiling fan
Bathrobes & slippers

* Limited Cots available free of charge, on Request. This resort does not have highchairs available
Credit Chart & Seasonality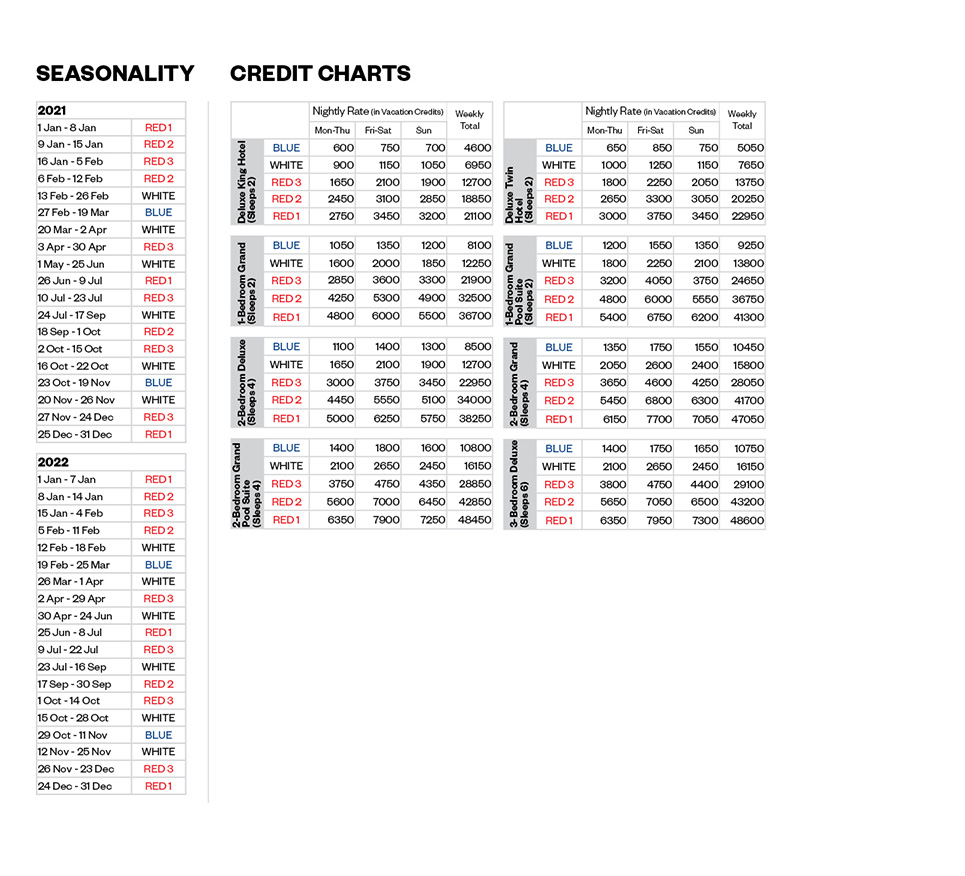 Resort Credit Calculator
Click here to instantly calculate the credits required for your holiday