Perth boasts all the modern cosmopolitan delights of a city escape with the luxury of being less than 30 minutes drive from some of Australia's best beaches, making Western Australia's capital city a standout holiday or business destination. Situated in the West Perth business district, Club Wyndham Perth is a stone's throw from the heart of the city, relaxing Kings Park and beautiful Swan River.
Whether you are staying for one night or a little longer, owners can retreat to the stylishly appointed and comfortable accommodation at this boutique Perth hotel. Choose from hotel rooms with tea and coffee making facilities or two-bedroom apartments with fully equipped kitchens, both offering chic decor for inner city sophistication. Hotel facilities include in-room pay per view movies.
Club Wyndham Perth positions owners in a central location to enjoy a multitude of attractions and activities in Perth's city center and its surrounding areas. Take a short stroll to Kings Park, located opposite the hotel, where some of the best views of Perth and the Swan River can be seen, or visit must-do tourist attractions including the historic Perth Mint and the Swan Bell Tower. There is also much to entice owners out of Perth including beautiful beaches, Fremantle, Rottnest Island and Swan Valley Vineyards.
Club Wyndham Perth
32 Outram Street, West Perth, WA, 6005
How to Reach
Amenities
Tour Desk
6am – 10pm Reception (closes during public holidays at 8pm)
Bike Hire
Picnic Basket and Rug hire
Lobby Lounge
Limited Undercover Parking
Board Games
Reception Hours: Between 6:00am to 10:00pm
After Hours:
After hours arrivals will be required to press the intercom at the entrance then identify themselves that matches the reservation name and the safe code will be provide and keys will be located in the safe in an envelope.
If an owner locks themselves out during the night, once again they need to press the intercom on the main door, identify themselves and then the security company will come and let them into their rooms.
After hours enquiries will be diverted to Nitel answering service. Each night there will be a Duty Manager on call and available to assist if required. (off site)
It is advised, any guests arriving after 10pm each night to call reception before arrival for full instructions the resort will also make contact with late arrivals.
Check-in Time: 4:00pm    Check-out Time: 12:00pm
Car Parking: This property has limited, secure parking at the cost of $20 per day. There is a 2.1m height restriction for the undercover parking. Parking bays are subject to availability and must be reserved directly through the resort by contacting 08 9322 4888, please book early to avoid disappointment.
NO SMOKING: Club Wyndham Perth is a completely non smoking property.  Smoking is permitted outside in designated smoking areas.
Room Type
Air Conditioning

Heating

Balcony or Deck

Bed Configuration

Bedding in lounge

Internet Access

Kitchen

Dishwasher

Number of Bathrooms

Shower/bath

Washer/Dryer (in unit)

Studio Deluxe
Full
--
K
--
-
--
1
S+B
--

Maximum occupancy 2 people
One-room open plan unit
King size bed – only 3 rooms have beds that can be split, this can be requested but not a guarantee.
Separate bathroom (with separate shower and spa bath) open plan – visible from main area.
No kitchen – tea/coffee making facilities only
Small Juliet balcony
Air-conditioning
Internet, TVs and Movies via LifeStyle Panel
WiFi is available – Limit 4 devices at a time.
No laundry facilities in room or on site – dry cleaning available (charges apply) laundromats within driving distance
Rooms are quite small – 32 sq mtrs – may not be suitable for lengthy stays.

*Rollaway beds are not available
*Cots and highchairs available free of charge on request

1 Bedroom Deluxe
Full
--
K
--
Full
1
S + B

Maximum occupancy 4 people
King size bed – cannot be split or Queen size bed
Double pull-out sofa bed (not a full size, not recommended for 2 adults)
Separate bathroom (with seperate shower and bath)
Full kitchen, 4x hotplates, oven and dishwasher
Balcony
Air-conditioning
Internet, TVs and Movies via LifeStyle Panel
WiFi is available – Limit 4 devices at a time – further information and prices here
Washer and dryer
Town View

* The 1 Bedroom Deluxe apartments have either a King (cannot be split) or Queen Bed in the master bedroom. Any bedding requests must be made at the time of booking.

*Rollaway beds are not available
*Cots and highchairs available free of charge on request

2 Bedroom
Full
--
K + SS
Full
2
S

Maximum occupancy 6 people – not recommended for six adults. Suggested occupancy limit is four adults and two children (under 12 years).
1 x King size bed, 2 x Single beds (can be joined on request), 1 x Double Pull-out sofa bed
Aircondtioning in lounge/dining area,
Small Juliet balcony
Internet, TVs and Movies via LifeStyle Panel
WiFi is available – Limit 4 devices at a time – further information and prices here
2 bathrooms – shower only, does not have a spa bath
Full kitchen with stovetop, oven, microwave, dishwasher
and laundry

*Rollaway beds are not available
*Cots and highchairs available free of charge on request
Studio Deluxe
Air Conditioning

Full

Heating

--

Balcony or Deck

Bed Configuration

K

Bedding in lounge

--

Internet Access

Kitchen

-

Dishwasher

--

Number of Bathrooms

1

Shower/bath

S+B

Washer/Dryer (in unit)

--

Maximum occupancy 2 people
One-room open plan unit
King size bed – only 3 rooms have beds that can be split, this can be requested but not a guarantee.
Separate bathroom (with separate shower and spa bath) open plan – visible from main area.
No kitchen – tea/coffee making facilities only
Small Juliet balcony
Air-conditioning
Internet, TVs and Movies via LifeStyle Panel
WiFi is available – Limit 4 devices at a time.
No laundry facilities in room or on site – dry cleaning available (charges apply) laundromats within driving distance
Rooms are quite small – 32 sq mtrs – may not be suitable for lengthy stays.

*Rollaway beds are not available
*Cots and highchairs available free of charge on request
1 Bedroom Deluxe
Air Conditioning

Full

Heating

--

Balcony or Deck

Bed Configuration

K

Bedding in lounge

--

Internet Access

Kitchen

Full

Dishwasher

Number of Bathrooms

1

Shower/bath

S + B

Washer/Dryer (in unit)

Maximum occupancy 4 people
King size bed – cannot be split or Queen size bed
Double pull-out sofa bed (not a full size, not recommended for 2 adults)
Separate bathroom (with seperate shower and bath)
Full kitchen, 4x hotplates, oven and dishwasher
Balcony
Air-conditioning
Internet, TVs and Movies via LifeStyle Panel
WiFi is available – Limit 4 devices at a time – further information and prices here
Washer and dryer
Town View

* The 1 Bedroom Deluxe apartments have either a King (cannot be split) or Queen Bed in the master bedroom. Any bedding requests must be made at the time of booking.

*Rollaway beds are not available
*Cots and highchairs available free of charge on request
2 Bedroom
Air Conditioning

Full

Heating

--

Balcony or Deck

Bed Configuration

K + SS

Bedding in lounge

Internet Access

Kitchen

Full

Dishwasher

Number of Bathrooms

2

Shower/bath

S

Washer/Dryer (in unit)

Maximum occupancy 6 people – not recommended for six adults. Suggested occupancy limit is four adults and two children (under 12 years).
1 x King size bed, 2 x Single beds (can be joined on request), 1 x Double Pull-out sofa bed
Aircondtioning in lounge/dining area,
Small Juliet balcony
Internet, TVs and Movies via LifeStyle Panel
WiFi is available – Limit 4 devices at a time – further information and prices here
2 bathrooms – shower only, does not have a spa bath
Full kitchen with stovetop, oven, microwave, dishwasher
and laundry

*Rollaway beds are not available
*Cots and highchairs available free of charge on request
Credit Chart & Seasonality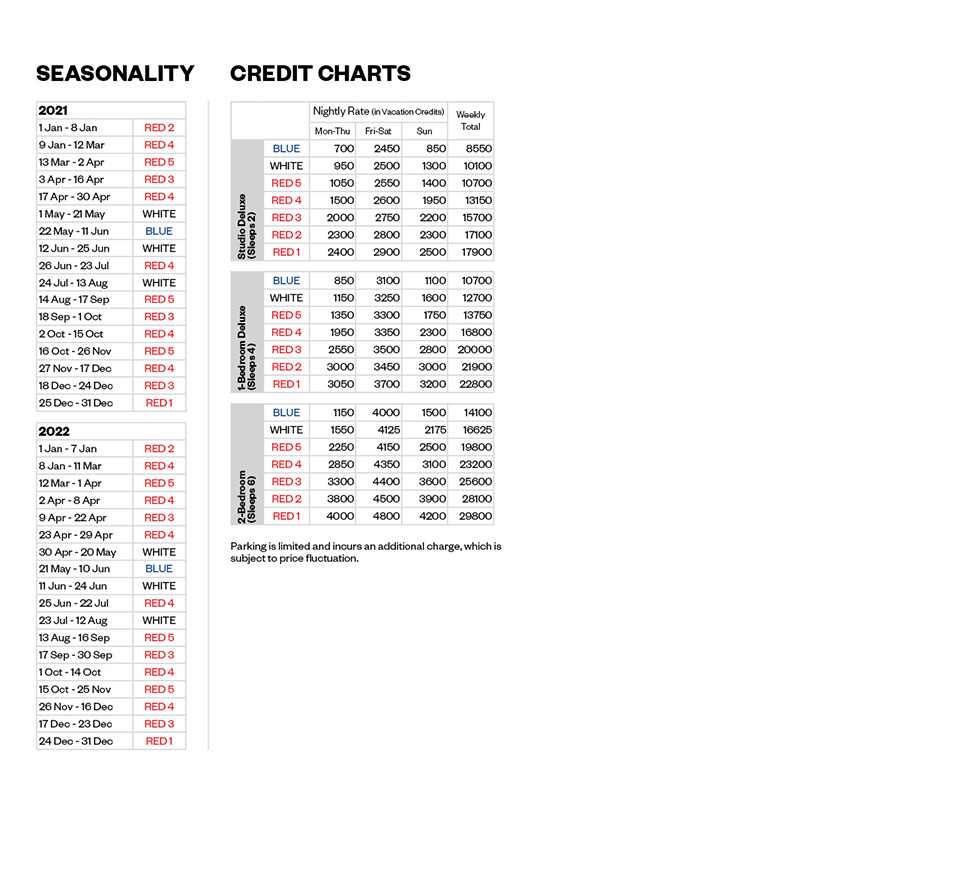 Resort Credit Calculator
Click here to instantly calculate the credits required for your holiday