Whether you explore the wilderness in summer, or witness the snowy wonderland presented in winter, Victoria's alpine high country is breathtaking all year around.
Situated just metres from the Great Alpine Road, Club Wyndham Dinner Plain is only fifteen minutes from Mt Hotham's renowned ski runs & hiking trails. Explore the magnificent country trails on foot, mountain bike during summer or on a sled pulled by a pack of huskies during the winter month. Try your hand at Frisbee golf within Dinner Plain or go for an adventure on one of the many Hiking tracks, ranging from everyday walking to full day hikes across the mountain tops. Club Wyndham Dinner Plain offers lodge accommodation and two, three and four-bedroom fully-furnished chalets, all featuring the stone and wood finishes and pitched corrugated iron roofs of traditional high country cattlemen's huts.
The picturesque country town of Bright or Omeo, is your last stop for groceries & petrol before making your ascent up the mountain. Please note that there are NO groceries or petrol available at Mt Hotham or Dinner Plain.
CLUB WYNDHAM OWNER FREE ACTIVITIES:
Frisbee Golf
Bike Hire
Tennis
Basketball
Pump Track
Club Wyndham Dinner Plain
12 Big Muster Drive, Dinner Plain, 3898, Victoria
How to Reach
Amenities
Café and Bar
Bicycle and Walking Tracks
Frisbee Golf
Basketball
Taboganning
Oversized Vehicle Parking - Scrubbers End
Fireside Lounge Bar
Onsite parking
Tennis
Pump Track
Bike Hire
Reception Hours: Monday to Wednesday 9am – 5pm
Thursday to Sunday 9am – 9pm
Check-in Time: 4:00pm    Check-out Time: 12:00pm
Car Parking: Guaranteed 1 car space per lodge (some lodges can accommodate 2 vehicles). Overflow car parking and oversized vehicles (caravans, trailers etc) located @ Beginners Slope, a 5 minute walk from reception. No height restrictions as all parking is open air.
Elevators: No Elevators at Resort – If Ground floor apartment required in the lodge, a Ground floor must be booked.
Resort Information: Owners will be sent an email with detailed information prior to their arrival to the resort; we encourage owners to check this as well as visit the Before You Go website prior to travelling.
Room Type
Air Conditioning

Heating

Balcony or Deck

Bed Configuration

Bedding in lounge

Internet Access

Kitchen

Dishwasher

Number of Bathrooms

Shower/bath

Washer/Dryer (in unit)

Hotel
-
--
Q
--
-
--
1
S
--

Maximum occupancy: 2 people
1 x Queen bed (cannot be split)
Coffee/Tea making facilities – no cooking facilities or toaster
50L Fridge
40″ LSP TV (Internet, TV and Movies via Lifestyle Panels)
Heating – panel heater
Ensuite bathroom with walk in shower

*Rollaway beds are not available
* Limited cots and highchairs available free of charge on request

Other Room Types:

1 Bedroom
-
--
Q
-
--
1
S
--

Maximum occupancy 4 people (recommended 2A & 2C – not 4A)
1 x Queen bed (cannot be split), and pull out sofa bed
Coffee/Tea making facilities – no cooking facilities or toaster
50L Fridge
40″ LSP TV (Internet, TV and Movies via Lifestyle Panels
Heating – panel heater
Ensuite bathroom with walk in shower
Located on ground floor

*Rollaway beds are not available
* Limited cots and highchairs available free of charge on request

1 Bedroom Deluxe (Sleep 2)
-
--
Q
--
Medium
--
1
S

Maximum occupancy 2 people
1 x Queen bed (cannot be split) – no sofa bed
Kitchen with fridge, oven, cook top, microwave
1 Bathroom with shower only
Washing machine and dryer
48″ &  32″  LSP TV (Internet, TV and Movies via Lifestyle Panels)
Townhouse/Unit attached to another unit
Internal and/or external stairs
Backs onto reserve
Ski storage
Wall heaters – no fireplace
No balcony or garage

*Rollaway beds are not available
* Limited cots and highchairs available free of charge on request

1 Bedroom Deluxe (Sleep 4)
-
--
Q + SS
--
--
Full
1
S
--

Maximum Occupancy 4 people
1 x Queen Bed (cannot be split), and Bunk Beds on landing
Kitchen with fridge, oven, cooktop, microwave and dishwasher
1 bathroom with shower only
Open fireplace
 48″ & 32″ LSP TV  (Internet, TV and Movies via Lifestyle Panels)
Internal and/or external stairs
No balcony
Townhouse/unit attached to another unit
Ski storage
Located near to Ramada Lodge
Driveway parking for one car – no garage

2 Bedroom Deluxe
-
Q + SS
--
Full
1
S

Maximum occupancy 4 people
1 x Queen bed (cannot be split), and 2 Singles (cannot be joined)
Kitchen with fridge, oven, cooktop, microwave, dishwasher
Wood fireplace and wall heater
Laundry with washer and dryer
48″ & 32″ LSP TV (Internet, TV and Movies via Lifestyle Panels)
Balcony
No ski storage
Townhouse/Unit attached to another unit
Internal and/or external stairs
Driveway parking for one car – no garage

*Rollaway beds are not available
* Limited cots and highchairs available free of charge on request

Room Types:

2 Bedroom Deluxe 1 bath – 1 bathroom with shower only, and 1 x separate toilet
2 Bedroom Deluxe 2 bath

2 Bedroom Grand
-
Q + SS
--
Full
2
S

Maximum Occupancy 4 people
1 x Queen and 1 x Queen split (made up as 2 singles unless requested otherwise)
Kitchen with fridge, oven, cooktop, microwave, dishwasher
2 bathrooms, (some apartments have a spa bath can be requested, no guarantee)
Fireplace (either open fire or electric) can be requested but not guaranteed
Laundry with washer and dryer
55″, 40″ & 32″ LSP TV (Internet, TV and Movies via Lifestyle Panels)
Balcony or ski storage. Apartments with balconies DO NOT have ski storage and vice versa (can be requested, no guarantee)
Internal and/or External stairs
Driveway parking for one car – no garage

*Rollaway beds are not available
* Limited cots and highchairs available free of charge on request

3 Bedroom Deluxe
-
Q + Q + SS
--
Full
2
SB + S

Maximum occupancy: 6 people
2 x Queen and 1 x Queen split (made up as 2 singles unless requested otherwise) or 3 x Queen bed (cannot be split) (can be requested, no guarantee)
Kitchen with fridge, oven, cooktop, microwave, dishwasher
2 bathrooms – one has a shower over a bath, the other has a standalone shower
Laundry with washer and dryer
 48″ & 32″ LSP TV (Internet, TV and Movies via Lifestyle Panels)
Fireplace – either gas or wood (can be requested, no guarantee)
Balcony
Ski storage
Internal and external stairs
Parking for one car – no garage

*Rollaway beds are not available
* Limited cots and highchairs available free of charge on request

3 Bedroom Grand
-
Q + Q + SS
--
Full
2
SB | S+S

Maximum occupancy: 6 people
2 x Queen and 1 x Queen split (made up as 2 singles unless requested otherwise)
Kitchen with fridge, oven, cooktop, microwave, dishwasher
2 bathrooms – some units have one bathroom with a shower over a bath, with the other as a standalone shower, and some have 2 x standalone shower (can be requested, no guarantee)
Fireplace (either open fire or electric) can be requested but not guaranteed
Laundry with washer and dryer
 55″, 40″ & 2 x 32″ LSP TV's (Internet, TV and Movies via Lifestyle Panels)
Balcony
Ski storage
Internal and/or external stairs
Driveway parking for one car – no garage
Gas BBQ

*Rollaway beds are not available
* Limited cots and highchairs available free of charge on request

4 Bedroom Deluxe
-
--
Q + Q + SSSS
--
Full
2
S + S

Maximum occupancy: 8 people
2 x Queen and 2 x Queen split (made up as 2 singles unless requested otherwise)
Kitchen with fridge, oven, cooktop, microwave, dishwasher
2 bathrooms with shower only
Laundry with washer and dryer
 48″ & 32″ LSP TV (Internet, TV and Movies via Lifestyle Panels)
Wood fireplace
Ski storage
No balcony
Driveway parking for one car – no garage

*Rollaway beds are not available
* Limited cots and highchairs available free of charge on request

4 Bedroom Grand
-
Q + Q + SSSS
--
Full
2
SB + SB + S

Maximum occupancy: 8 people
2 x Queen and 2 x Queen split (made up as 2 singles unless requested otherwise)
Kitchen with fridge, oven, cooktop, microwave, dishwasher
2 bathrooms (1 with shower over spa bath, 1 with shower over bath, and 1 with 2 x stand-alone showers & spa pool – can be requested but not guaranteed )
Electric or gas fireplace – can be requested but not guaranteed
Laundry with washer and dryer
55″, 40″ & 2 x 32″ LSP TV's (Internet, TV and Movies via Lifestyle Panels)
Balcony
Ski storage
Internal and/or external Stairs
Driveway parking for one car – no garage
Gas BBQ

*Rollaway beds are not available
* Limited cots and highchairs available free of charge on request
Hotel
Air Conditioning

-

Heating

Balcony or Deck

--

Bed Configuration

Q

Bedding in lounge

--

Internet Access

Kitchen

-

Dishwasher

--

Number of Bathrooms

1

Shower/bath

S

Washer/Dryer (in unit)

--

Maximum occupancy: 2 people
1 x Queen bed (cannot be split)
Coffee/Tea making facilities – no cooking facilities or toaster
50L Fridge
40″ LSP TV (Internet, TV and Movies via Lifestyle Panels)
Heating – panel heater
Ensuite bathroom with walk in shower

*Rollaway beds are not available
* Limited cots and highchairs available free of charge on request

Other Room Types:
1 Bedroom
Air Conditioning

-

Heating

Balcony or Deck

--

Bed Configuration

Q

Bedding in lounge

Internet Access

Kitchen

-

Dishwasher

--

Number of Bathrooms

1

Shower/bath

S

Washer/Dryer (in unit)

--

Maximum occupancy 4 people (recommended 2A & 2C – not 4A)
1 x Queen bed (cannot be split), and pull out sofa bed
Coffee/Tea making facilities – no cooking facilities or toaster
50L Fridge
40″ LSP TV (Internet, TV and Movies via Lifestyle Panels
Heating – panel heater
Ensuite bathroom with walk in shower
Located on ground floor

*Rollaway beds are not available
* Limited cots and highchairs available free of charge on request
1 Bedroom Deluxe (Sleep 2)
Air Conditioning

-

Heating

Balcony or Deck

--

Bed Configuration

Q

Bedding in lounge

--

Internet Access

Kitchen

Medium

Dishwasher

--

Number of Bathrooms

1

Shower/bath

S

Washer/Dryer (in unit)

Maximum occupancy 2 people
1 x Queen bed (cannot be split) – no sofa bed
Kitchen with fridge, oven, cook top, microwave
1 Bathroom with shower only
Washing machine and dryer
48″ &  32″  LSP TV (Internet, TV and Movies via Lifestyle Panels)
Townhouse/Unit attached to another unit
Internal and/or external stairs
Backs onto reserve
Ski storage
Wall heaters – no fireplace
No balcony or garage

*Rollaway beds are not available
* Limited cots and highchairs available free of charge on request
1 Bedroom Deluxe (Sleep 4)
Air Conditioning

-

Heating

Balcony or Deck

--

Bed Configuration

Q + SS

Bedding in lounge

--

Internet Access

--

Kitchen

Full

Dishwasher

Number of Bathrooms

1

Shower/bath

S

Washer/Dryer (in unit)

--

Maximum Occupancy 4 people
1 x Queen Bed (cannot be split), and Bunk Beds on landing
Kitchen with fridge, oven, cooktop, microwave and dishwasher
1 bathroom with shower only
Open fireplace
 48″ & 32″ LSP TV  (Internet, TV and Movies via Lifestyle Panels)
Internal and/or external stairs
No balcony
Townhouse/unit attached to another unit
Ski storage
Located near to Ramada Lodge
Driveway parking for one car – no garage
2 Bedroom Deluxe
Air Conditioning

-

Heating

Balcony or Deck

Bed Configuration

Q + SS

Bedding in lounge

--

Internet Access

Kitchen

Full

Dishwasher

Number of Bathrooms

1

Shower/bath

S

Washer/Dryer (in unit)

Maximum occupancy 4 people
1 x Queen bed (cannot be split), and 2 Singles (cannot be joined)
Kitchen with fridge, oven, cooktop, microwave, dishwasher
Wood fireplace and wall heater
Laundry with washer and dryer
48″ & 32″ LSP TV (Internet, TV and Movies via Lifestyle Panels)
Balcony
No ski storage
Townhouse/Unit attached to another unit
Internal and/or external stairs
Driveway parking for one car – no garage

*Rollaway beds are not available
* Limited cots and highchairs available free of charge on request

Room Types:

2 Bedroom Deluxe 1 bath – 1 bathroom with shower only, and 1 x separate toilet
2 Bedroom Deluxe 2 bath
2 Bedroom Grand
Air Conditioning

-

Heating

Balcony or Deck

Bed Configuration

Q + SS

Bedding in lounge

--

Internet Access

Kitchen

Full

Dishwasher

Number of Bathrooms

2

Shower/bath

S

Washer/Dryer (in unit)

Maximum Occupancy 4 people
1 x Queen and 1 x Queen split (made up as 2 singles unless requested otherwise)
Kitchen with fridge, oven, cooktop, microwave, dishwasher
2 bathrooms, (some apartments have a spa bath can be requested, no guarantee)
Fireplace (either open fire or electric) can be requested but not guaranteed
Laundry with washer and dryer
55″, 40″ & 32″ LSP TV (Internet, TV and Movies via Lifestyle Panels)
Balcony or ski storage. Apartments with balconies DO NOT have ski storage and vice versa (can be requested, no guarantee)
Internal and/or External stairs
Driveway parking for one car – no garage

*Rollaway beds are not available
* Limited cots and highchairs available free of charge on request
3 Bedroom Deluxe
Air Conditioning

-

Heating

Balcony or Deck

Bed Configuration

Q + Q + SS

Bedding in lounge

--

Internet Access

Kitchen

Full

Dishwasher

Number of Bathrooms

2

Shower/bath

SB + S

Washer/Dryer (in unit)

Maximum occupancy: 6 people
2 x Queen and 1 x Queen split (made up as 2 singles unless requested otherwise) or 3 x Queen bed (cannot be split) (can be requested, no guarantee)
Kitchen with fridge, oven, cooktop, microwave, dishwasher
2 bathrooms – one has a shower over a bath, the other has a standalone shower
Laundry with washer and dryer
 48″ & 32″ LSP TV (Internet, TV and Movies via Lifestyle Panels)
Fireplace – either gas or wood (can be requested, no guarantee)
Balcony
Ski storage
Internal and external stairs
Parking for one car – no garage

*Rollaway beds are not available
* Limited cots and highchairs available free of charge on request
3 Bedroom Grand
Air Conditioning

-

Heating

Balcony or Deck

Bed Configuration

Q + Q + SS

Bedding in lounge

--

Internet Access

Kitchen

Full

Dishwasher

Number of Bathrooms

2

Shower/bath

SB | S+S

Washer/Dryer (in unit)

Maximum occupancy: 6 people
2 x Queen and 1 x Queen split (made up as 2 singles unless requested otherwise)
Kitchen with fridge, oven, cooktop, microwave, dishwasher
2 bathrooms – some units have one bathroom with a shower over a bath, with the other as a standalone shower, and some have 2 x standalone shower (can be requested, no guarantee)
Fireplace (either open fire or electric) can be requested but not guaranteed
Laundry with washer and dryer
 55″, 40″ & 2 x 32″ LSP TV's (Internet, TV and Movies via Lifestyle Panels)
Balcony
Ski storage
Internal and/or external stairs
Driveway parking for one car – no garage
Gas BBQ

*Rollaway beds are not available
* Limited cots and highchairs available free of charge on request
4 Bedroom Deluxe
Air Conditioning

-

Heating

Balcony or Deck

--

Bed Configuration

Q + Q + SSSS

Bedding in lounge

--

Internet Access

Kitchen

Full

Dishwasher

Number of Bathrooms

2

Shower/bath

S + S

Washer/Dryer (in unit)

Maximum occupancy: 8 people
2 x Queen and 2 x Queen split (made up as 2 singles unless requested otherwise)
Kitchen with fridge, oven, cooktop, microwave, dishwasher
2 bathrooms with shower only
Laundry with washer and dryer
 48″ & 32″ LSP TV (Internet, TV and Movies via Lifestyle Panels)
Wood fireplace
Ski storage
No balcony
Driveway parking for one car – no garage

*Rollaway beds are not available
* Limited cots and highchairs available free of charge on request
4 Bedroom Grand
Air Conditioning

-

Heating

Balcony or Deck

Bed Configuration

Q + Q + SSSS

Bedding in lounge

--

Internet Access

Kitchen

Full

Dishwasher

Number of Bathrooms

2

Shower/bath

SB + SB + S

Washer/Dryer (in unit)

Maximum occupancy: 8 people
2 x Queen and 2 x Queen split (made up as 2 singles unless requested otherwise)
Kitchen with fridge, oven, cooktop, microwave, dishwasher
2 bathrooms (1 with shower over spa bath, 1 with shower over bath, and 1 with 2 x stand-alone showers & spa pool – can be requested but not guaranteed )
Electric or gas fireplace – can be requested but not guaranteed
Laundry with washer and dryer
55″, 40″ & 2 x 32″ LSP TV's (Internet, TV and Movies via Lifestyle Panels)
Balcony
Ski storage
Internal and/or external Stairs
Driveway parking for one car – no garage
Gas BBQ

*Rollaway beds are not available
* Limited cots and highchairs available free of charge on request
Credit Chart & Seasonality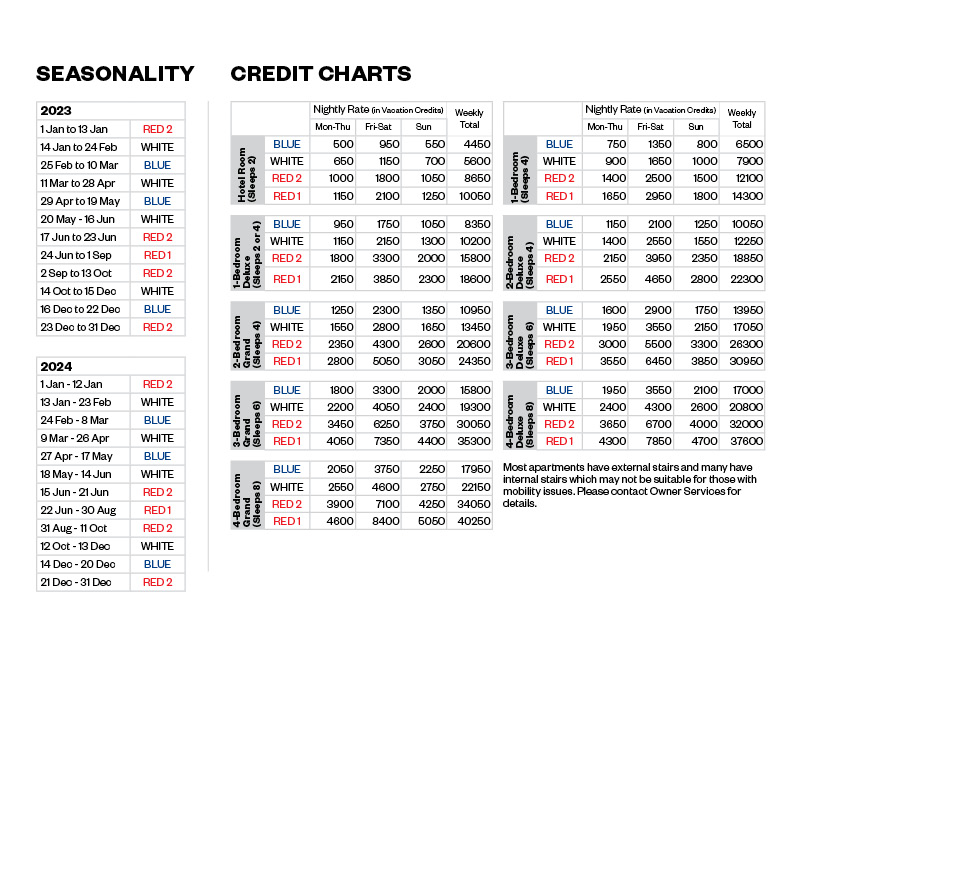 Resort Credit Calculator
Click here to instantly calculate the credits required for your holiday