Due to the impact of Covid-19, availability at this resort has been suspended indefinitely.
Ramada Zen Quarter offers contemporary apartments for a convenient and luxurious holiday escape. Enjoy the satisfaction of a refreshing beverage on your private balcony while taking in the spectacular water or city views.
The spacious and stylish, self-contained accommodation combines contemporary décor and practical holiday living to make you feel the comfort of home while away from home. Frolic with friends and family or swim some laps in Ramada Zen Quarter's spectacular 28-meter infinity swimming pool. Be sure to relax and enjoy an ice cream in the onsite cafe, run it off later in the fully equipped gym and soak up the sun in the outdoor entertainment area.
A plethora of activities and attractions awaits in Darwin and our polite and friendly staff are more than happy to assist you with planning your holiday adventures.
Ramada Zen Quarter
6 Carey Street, Darwin CBD, 0800 Darwin, Australia
How to Reach
Amenities
Bike Hire
Gym
Laundry facilities
Restaurant
Outdoor Pool
Wi-Fi Internet
Parking
Reception Hours: 24 hours
Check-in Time: 2:00pm    Check-out Time: 11:00am
Privileges Benefits: This property is a contracted resort and is not managed by Wyndham therefore Privileges benefits do not apply.
2 nights minimum stay applies to all reservations – regardless of nights available. The Resort Manager will only consider a shorter stay once we are within 30 Days of the desired check-in date.
Please note:
Bookings are available for stays until 30 March 2021
Rooms cannot be booked within 14 days prior to check-in
*Associate Resorts are an additional benefit offered by the developer, Wyndham Destinations Asia Pacific, and provide more destinations for Privileges Members throughout Asia and the South Pacific. Associate Resorts are not owned by Club Wyndham South Pacific, but have been carefully selected to offer a variety of locations and maintain quality and service. Privileges Members can access Associate Resort reservations 13 months in advance, and Privileges Elite, Diamond and Platinum Members have a 14-month booking window. Club Wyndham South Pacific Premier Owners, who are not Privileges Members, are granted limited access to some Associate Resorts and are subject to additional restrictions as determined by Wyndham Destinations Asia Pacific from time to time. Where the Privileges logo appears on the Associate Resort page, please note this resort is available to Privileges Members only. Wyndham Destinations Asia Pacific may remove or modify Associate Resorts without notice at any time.
Room Type
Air Conditioning

Heating

Balcony or Deck

Bed Configuration

Bedding in lounge

Internet Access

Kitchen

Dishwasher

Number of Bathrooms

Shower/bath

Washer/Dryer (in unit)

1 Bedroom Deluxe
Full
--
Q
--
--
--
1
S
--

Recommended occupancy 2
Maximum occupancy 3
Bedding configuration queen size bed (cannot be split) , 3rd person can be accommodated on a rollaway bed.  If requested at time of booking, rollaway is free of charge, If not requested until guest has checked in, the charge is $50 per night
Balcony with half city, half harbour view
1 bathroom with walk in shower (no bath)
Full kitchen (stovetop and oven)
Free Wi-Fi
Complimentary daily room servicing
Complimentary hot buffet breakfast

*Cots available for $20AUD for duration of stay – must be requested in booking and must not exceed maximum occupancy
* Limited Highchairs available free of charge, on Request

2 Bedroom
Full
--
Q + Q
--
Full
--
2
S
--

– Recommended Occupancy 4
– Maximum Occupancy 5
– Bedding configuration 2 X Queen Size Beds (cannot be split) 5th person can be accommodated on a Rollaway Bed  If requested at time of booking, rollaway is free of charge, If not requested until guest has checked in, the charge is $50 per night. Please note that the Resort does have some rooms that have twin singles in the second bedroom which can be requested but not a guarantee.
– Balcony with either city or ocean view (owners preference needs to be advised in the reservation notes)
– 2 bathrooms with walk in shower (no bath)
– Full Kitchen (Stovetop and oven)
– Free Wifi
– Complimentary daily room servicing
– Complimentary hot buffet breakfast

*Cots available for $20AUD for duration of stay – must be requested in booking and must not exceed maximum occupancy
* Limited Highchairs available free of charge, on Request
1 Bedroom Deluxe
Air Conditioning

Full

Heating

--

Balcony or Deck

Bed Configuration

Q

Bedding in lounge

--

Internet Access

Kitchen

--

Dishwasher

--

Number of Bathrooms

1

Shower/bath

S

Washer/Dryer (in unit)

--

Recommended occupancy 2
Maximum occupancy 3
Bedding configuration queen size bed (cannot be split) , 3rd person can be accommodated on a rollaway bed.  If requested at time of booking, rollaway is free of charge, If not requested until guest has checked in, the charge is $50 per night
Balcony with half city, half harbour view
1 bathroom with walk in shower (no bath)
Full kitchen (stovetop and oven)
Free Wi-Fi
Complimentary daily room servicing
Complimentary hot buffet breakfast

*Cots available for $20AUD for duration of stay – must be requested in booking and must not exceed maximum occupancy
* Limited Highchairs available free of charge, on Request
2 Bedroom
Air Conditioning

Full

Heating

--

Balcony or Deck

Bed Configuration

Q + Q

Bedding in lounge

--

Internet Access

Kitchen

Full

Dishwasher

--

Number of Bathrooms

2

Shower/bath

S

Washer/Dryer (in unit)

--

– Recommended Occupancy 4
– Maximum Occupancy 5
– Bedding configuration 2 X Queen Size Beds (cannot be split) 5th person can be accommodated on a Rollaway Bed  If requested at time of booking, rollaway is free of charge, If not requested until guest has checked in, the charge is $50 per night. Please note that the Resort does have some rooms that have twin singles in the second bedroom which can be requested but not a guarantee.
– Balcony with either city or ocean view (owners preference needs to be advised in the reservation notes)
– 2 bathrooms with walk in shower (no bath)
– Full Kitchen (Stovetop and oven)
– Free Wifi
– Complimentary daily room servicing
– Complimentary hot buffet breakfast

*Cots available for $20AUD for duration of stay – must be requested in booking and must not exceed maximum occupancy
* Limited Highchairs available free of charge, on Request
Credit Chart & Seasonality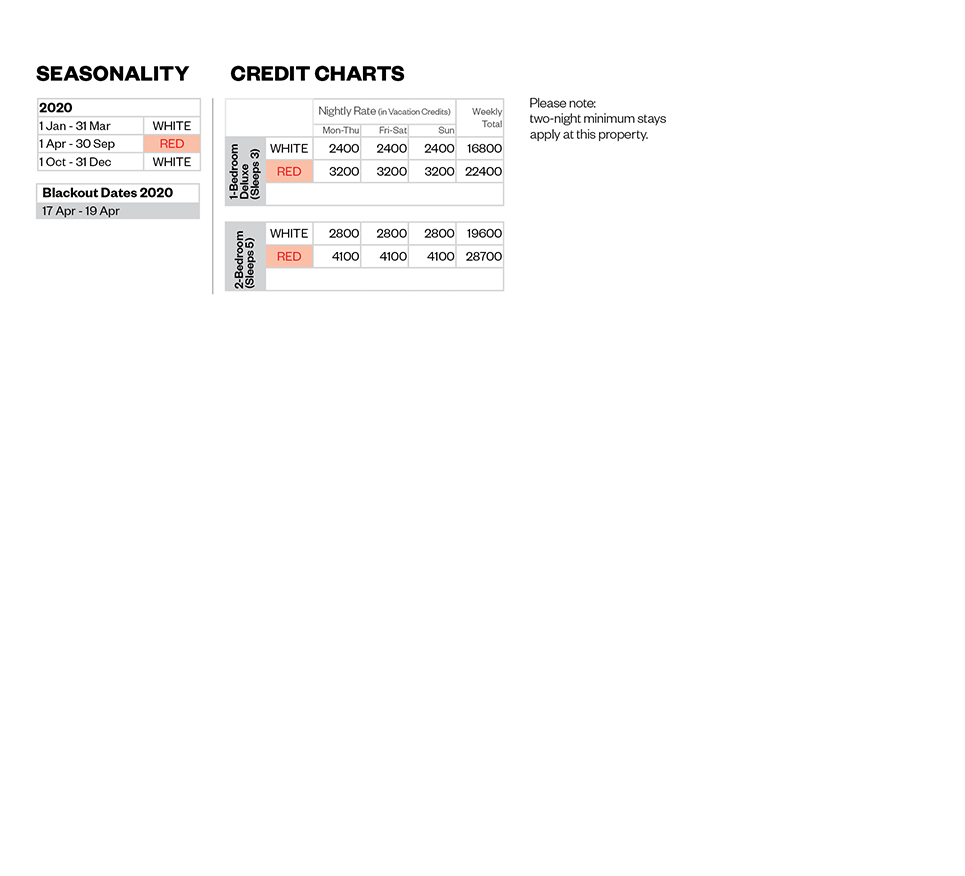 Resort Credit Calculator
Click here to instantly calculate the credits required for your holiday