Ramada Plaza Bangkok Menam Riverside
2074 Charoenkrung Road, Bangkorlaem, Bangkok 10120, Thailand
+66-2688-1000
Due to the impact of Covid-19, availability at this resort has been suspended indefinitely.
Overlooking the Chao Phraya River, this five-star luxury hotel offers a little slice of serenity in bustling Bangkok. The award-winning Ramada Plaza Bangkok Menam Riverside is the perfect base to explore all of the Thai capital's fascinating attractions. The hotel runs a free shuttle boat service to the nearby train station, connecting you to the city's Skytrain network. Cultural attractions including the Grand Palace and the Temple of Dawn are nearby, as well as Asia's largest night bazaar, located just a short walk from the hotel. This spacious hotel boasts an outdoor pool, sun terrace, five international restaurants, three bars and a huge wellness and spa centre spanning more than 1,000 square metres.
Ramada Plaza Bangkok Menam Riverside
2074 Charoenkrung Road, Bangkorlaem, Bangkok 10120, Thailand
How to Reach
Amenities
Fitness centre with gym
Five Restaurants
Terrace Sundecks
Three Bars
Pool
Yoga & Wellness Classes
Bakery
24-hour Room Service
Steam room
24-hour Reception
Reception Hours: 24 hours
Check-in Time: 2:00pm    Check-out Time: 11:00 am
Smoking: Ramada Plaza Bangkok Menam Riverside is a smoke free hotel.
Laundry: Suites do not have laundry facilities – valet laundry services available at a charge.
Transfers: Airport transfers available through resort reception.
Privileges Benefits: This property is a contracted resort and is not managed by Wyndham therefore Privileges benefits do not apply.
Before You Go – Bangkok, Thailand
Please note:
Bookings are available for stays until 4  February 2021
*Associate Resorts are an additional benefit offered by the developer, Wyndham Destinations Asia Pacific, and provide more destinations for Privileges Members throughout Asia and the South Pacific. Associate Resorts are not owned by Club Wyndham South Pacific, but have been carefully selected to offer a variety of locations and maintain quality and service. Privileges Members can access Associate Resort reservations 13 months in advance, and Privileges Elite, Diamond and Platinum Members have a 14-month booking window. Club Wyndham South Pacific Premier Owners, who are not Privileges Members, are granted limited access to some Associate Resorts and are subject to additional restrictions as determined by Wyndham Destinations Asia Pacific from time to time. Where the Privileges logo appears on the Associate Resort page, please note this resort is available to Privileges Members only. Wyndham Destinations Asia Pacific may remove or modify Associate Resorts without notice at any time.
Room Type
Air Conditioning

Heating

Balcony or Deck

Bed Configuration

Bedding in lounge

Internet Access

Kitchen

Dishwasher

Number of Bathrooms

Shower/bath

Washer/Dryer (in unit)

Premium Suite River View
Full
--
--
K
--
-
--
1
S
--

Maximum occupancy 2 people
56 square metres / 2 occupants
Riverview
King bed (cannot be split)
Complimentary Wi-Fi
Cable TV channels
In-room safe
Alarm clock and wake-up service
Bathrobes and slippers
Complimentary toiletries
Hairdryer
Umbrella / weighing scale
Work desk with lamp and chair
International direct dial phone
Mini-refrigerator
Coffee/tea maker
No Laundry – valet laundry service available (charges apply)
Iron and ironing board (On request)
Non-smoking
Air-conditioning with individual control
Complimentary bottled water
Minibar (at a charge)
Crib available (On request)
*Rollaway beds available on request for an additional fee (see Before You Go – Bangkok, Thailand page for more information) – Must not exceed maximum occupancy
Premium Suite River View
Air Conditioning

Full

Heating

--

Balcony or Deck

--

Bed Configuration

K

Bedding in lounge

--

Internet Access

Kitchen

-

Dishwasher

--

Number of Bathrooms

1

Shower/bath

S

Washer/Dryer (in unit)

--

Maximum occupancy 2 people
56 square metres / 2 occupants
Riverview
King bed (cannot be split)
Complimentary Wi-Fi
Cable TV channels
In-room safe
Alarm clock and wake-up service
Bathrobes and slippers
Complimentary toiletries
Hairdryer
Umbrella / weighing scale
Work desk with lamp and chair
International direct dial phone
Mini-refrigerator
Coffee/tea maker
No Laundry – valet laundry service available (charges apply)
Iron and ironing board (On request)
Non-smoking
Air-conditioning with individual control
Complimentary bottled water
Minibar (at a charge)
Crib available (On request)
*Rollaway beds available on request for an additional fee (see Before You Go – Bangkok, Thailand page for more information) – Must not exceed maximum occupancy
Credit Chart & Seasonality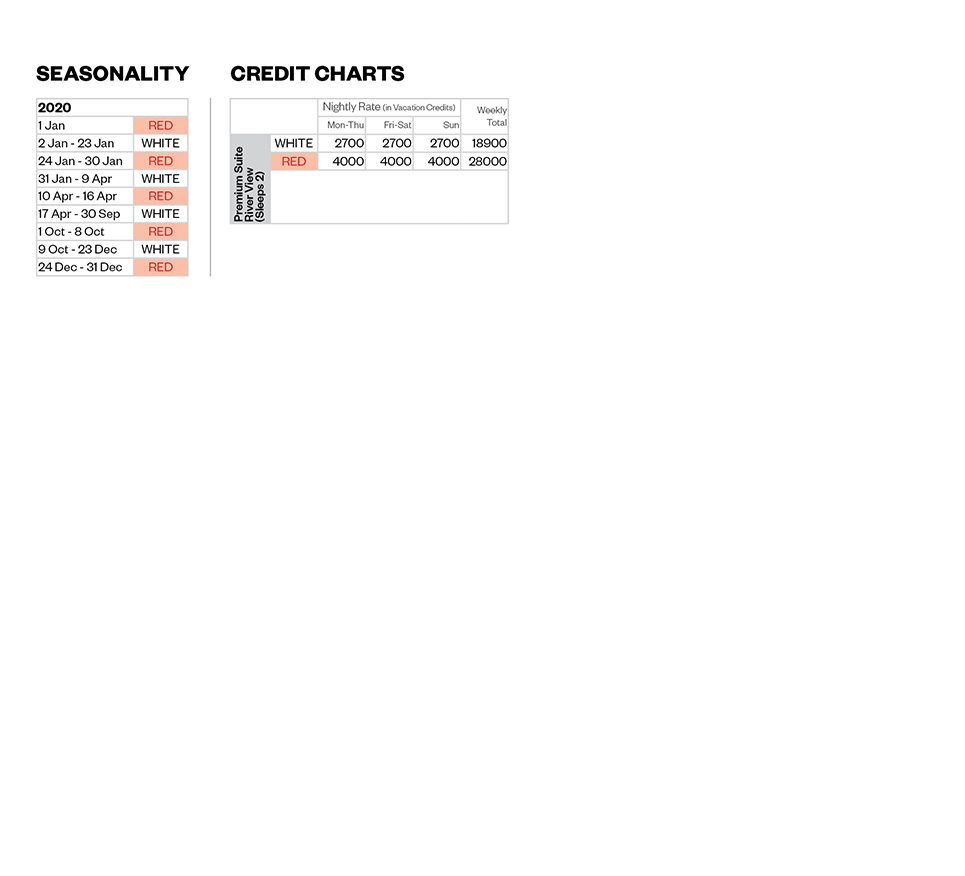 Resort Credit Calculator
Click here to instantly calculate the credits required for your holiday