Watch this space!
New apartments at Club Wyndham Flynns Beach are coming soon!
We are pleased to announce that the first new villas in the Club Wyndham Flynns Beach project will be added into Club Wyndham South Pacific and be available for booking from early December.
The credit charts and new room types will be announced to all owners by email in the coming days and be made available through the Club Wyndham South Pacific website at the same time.
In the meantime, we are excited to share some new interior shots of the project, which you can see below.
The development will provide an additional 53 one to four-bedroom villas, some of which are Deluxe, Grand and Presidential. They are spacious and feature a contemporary design and high-quality finishes, showcased in our fresh photography of the interiors.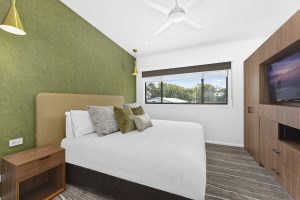 The villas have been architecturally designed with privacy in mind. We have planted appropriate vegetation around these new villas, so once it has time to establish itself, we are confident this new development will have a natural, laidback feel.
On the subject of vegetation, a five-year vegetation management plan approved by council was implemented for the important Wrights Creek area when this development started. A specialised consultant has been specifically managing the habitat during development.
In addition to the villas, new facilities have been developed onsite. A kids' pool is already open, while new common area barbecue pavilions are also complete and being utilised. The revamped gym and new café/restaurant will give owners and guests additional options to enjoy when they open in December.
Thank you for your interest in this development over 2019 and 2020. While the Developer is releasing some of the villas into the club, there will still be some contractors onsite into December as the last of the villas is finalised.
The villas will not all appear in the club in December; they will be transferred progressively by the Developer.
We look forward to welcoming club owners into the first of these new villas before the end of the year.
The Club Wyndham South Pacific team