Hi all,
This week has been an exciting one for our resort teams after 14 Australian resorts re-opened on Monday. After the restrictions in place during April and May, it was a great experience to return to normality and welcome you back to your club properties.
We are on schedule to open our remaining 11 resorts in Australia on July 1, subject to the continued easing of travel restrictions:
• Club Wyndham Port Douglas
• Club Wyndham Cairns
• Club Wyndham Airlie Beach Whitsundays
• Club Wyndham Crown Towers
• Club Wyndham Surfers Paradise
• Club Wyndham Pokolbin Hill
• Club Wyndham Port Stephens
• Club Wyndham Sydney
• Club Wyndham Lakes Entrance
• Club Wyndham Ballarat
• Club Wyndham Perth
As we are in the process of re-opening your properties, we have changed the name of this regular blog and video series from While You Are Away to Resort Report. We believe the new title better reflects the purpose of the series going forward.
Here, you will find information on the latest initiatives our teams are rolling out at your resorts, progress on refurbishment projects and new experiences for you to enjoy.
Express check-in
We are rolling out an express check-in service for all Club Wyndham South Pacific owners to utilise at club properties in Australia, New Zealand and Fiji – excluding only Pokolbin Hill, Port Stephens, Crown Towers, Cairns and Lakes Entrance.
The initiative enables you to bypass paperwork at check-in, so you can get to your room faster and, from a health perspective, minimise your contact with other people. All you need to do at reception is collect your room keys.
To use the service, just follow the link provided in an email you will receive seven days prior to your check-in date for your next reservation. Once you do, enter your owner number and password, review and acknowledge all the terms and conditions, and enter your credit card details.
If you would rather not wait for the email and do it now instead, follow this link:
https://express.wyndhamap.com/#
Registration only expires when your on-file credit card does. However, we will send you an email during the month prior to your credit card expiration date, enabling you to stay registered for express check-in.
Drive-through check-in trial
We are also trialling a drive-through check-in system at Club Wyndham Kirra Beach which may be rolled out at other properties in the future.
Using our reservation data on our property management system, this technology allows you to check-in remotely through your phone and bypass the front desk.
Keyless entry
You won't need a room key at Club Wyndham Kirra Beach; you can now use your smartphone to open the door to your room. Bluetooth technology enables your smartphone to connect with and unlock the new door mechanism. Your smartphone will also be able to open the garage door and resort entry points where you would typically use a room key.
You can see more about this and the other changes we have made, particularly at Club Wyndham Kirra Beach, in this video below.
Free activities for all owners
I am pleased to announce that all Club Wyndham owners will soon have complimentary access to more free activities onsite. For example, bikes, kayaks, tennis courts and other equipment that once required a charge to use will now be provided on a complimentary basis at more resorts.
Many resorts are also receiving additional equipment for you to use. Some examples are:
• Ramada Resort by Wyndham Golden Beach will have four person paddle boats for family fishing
• Club Wyndham Torquay is receiving surf boards and boogie boards
• Club Wyndham Dunsborough has doubled its number of kayaks and paddleboards
Hobby farm at Seven Mile Beach
New team members – of the four-legged variety – are arriving at Club Wyndham Seven Mile Beach.
The new hobby farm is designed to provide a family-friendly experience during your resort stay and is already open, although more of its attractions are due to take up residency in the coming weeks. This week, alpacas Polly and Winter arrived, along with a cow and her calf, who have been named Betsy and Banjo, thanks to your input on social channels.
We have two goats, Deltora and Dekota, arriving next month. There are also a couple of surprise animals on their way… and our team is looking forward to revealing those!
Here are pictures of our latest furry additions with some of our team members and Club Wyndham South Pacific owners.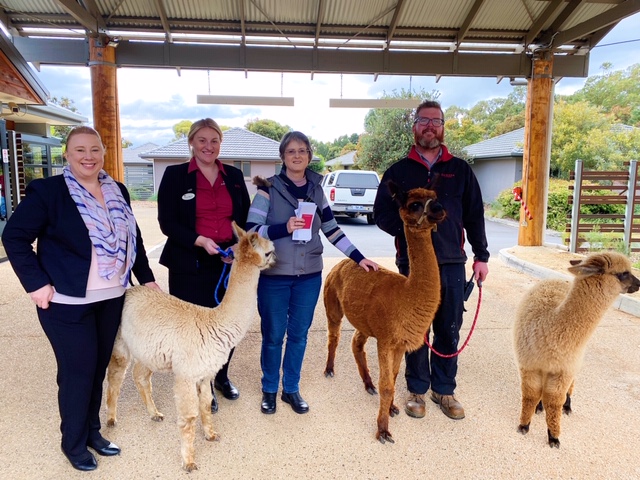 The hobby farm is just one of the family-friendly initiatives we have planned. I look forward to sharing the details of others in the near future in these Resort Report updates.
Remember, we would love to know what you think of these changes at your resorts. Please utilise our post-stay surveys or email us directly at clubwyndhamSP@wyn.com.
We look forward to seeing you soon.
Warren Cullum
Vice President Operations
Wyndham Destinations Asia Pacific