Club Wyndham South Pacific owners were able to enjoy a few months of trouble-free travel before COVID-19 restrictions restarted again in recent weeks. A designated club team is keeping on top of the latest developments and we continue to update policies as needed.
It has been great to see Australian and New Zealand club resorts full, or nearly full, over the last few months. We expect that this will continue in the future and we have made some temporary arrangements to make more inventory available to club owners.
NEW VILLAS AND APARTMENTS
We are pleased to announce additional villas and apartments are being made available at both Club Wyndham Flynns Beach and Club Wyndham Coffs Harbour for club owners to utilise.
From tomorrow, 23 more villas at Flynns Beach and one apartment at Club Wyndham Coffs Harbour will be available by the Developer for Club Wyndham South Pacific owners to book with their vacation credits.
These apartments are accessible on a temporary basis – providing more than 3,000 room nights through until October 15, 2021 – by way of an agreement between the Responsible Entity, Wyndham Vacation Clubs South Pacific, and the Developer, Wyndham Destinations Asia Pacific.
The new apartments available at Club Wyndham Flynns Beach are:
5 x 1-bedroom Deluxe Garden
7 x 2-bedroom Grand Garden
11 x 3-bedroom Grand Garden
The apartment available at Club Wyndham Coffs Harbour is a 3-bedroom Deluxe. 
Both resorts have high occupancy in the coming months and we hope that this will give more Club Wyndham South Pacific owners the opportunity to experience the New South Wales North Coast.
The Club Wyndham Flynns Beach villas are classified as existing villa types and will look similar to these below.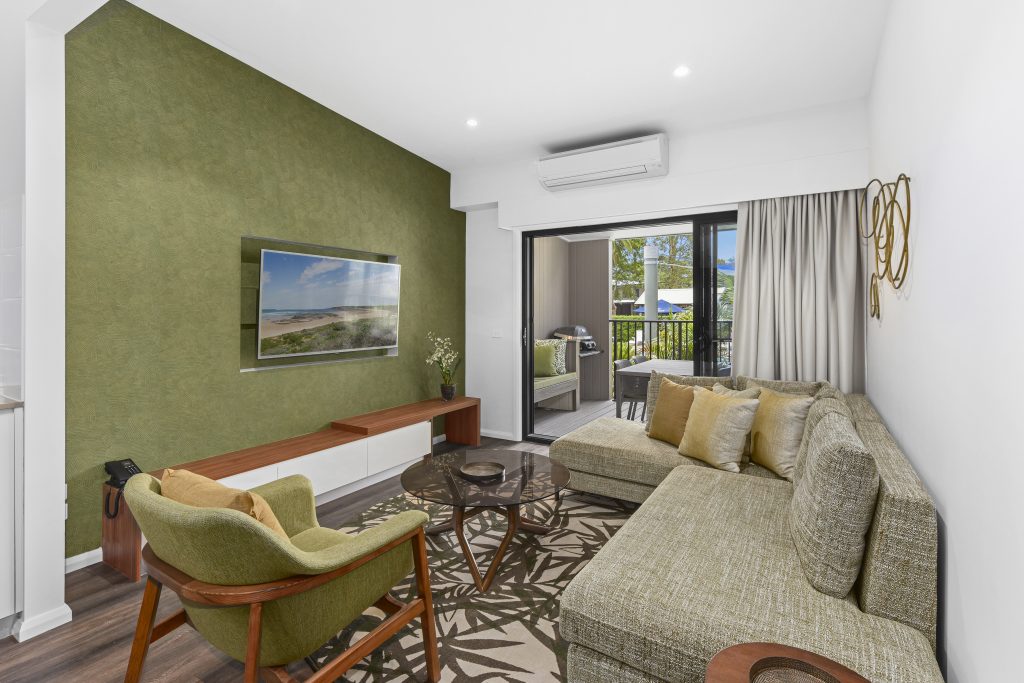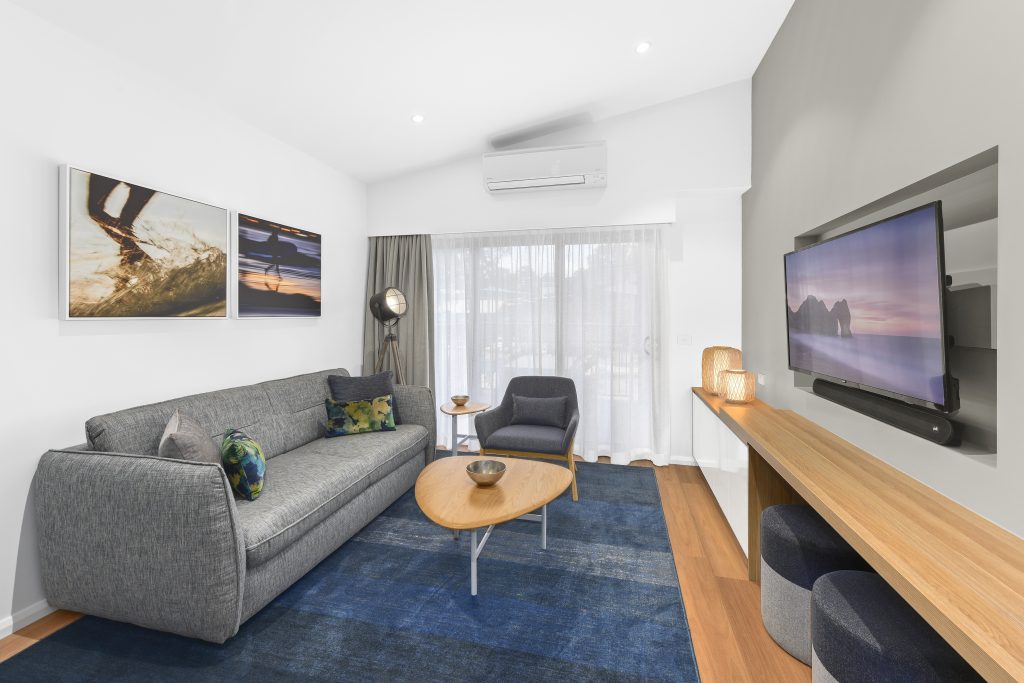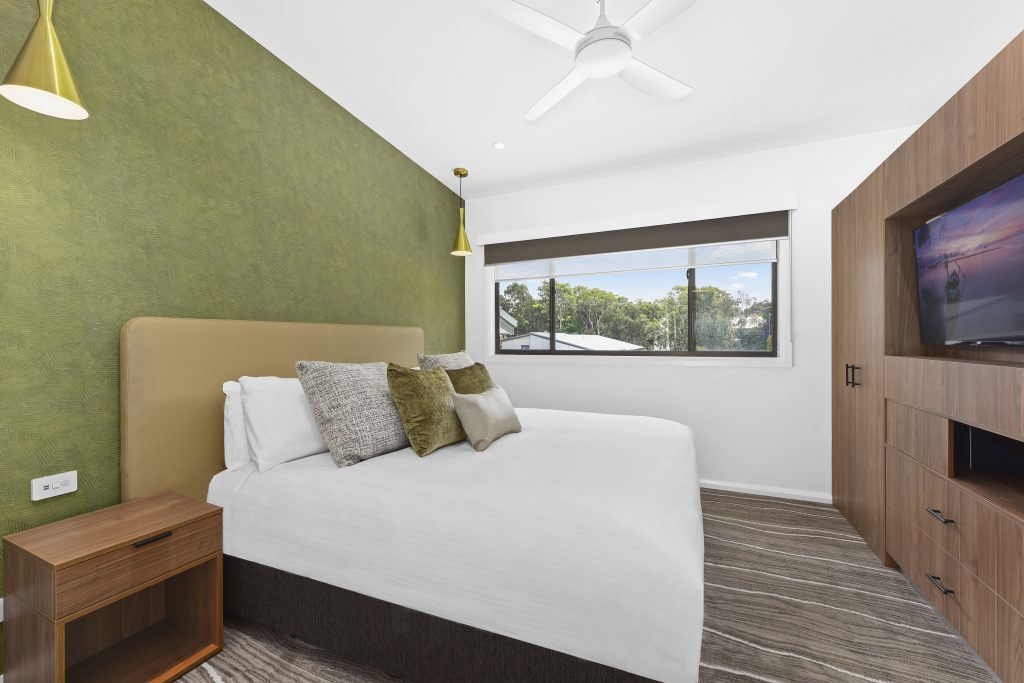 CLUB WYNDHAM AIRLIE BEACH REFURBISHMENT
The refurbishment of apartments at Club Wyndham Airlie Beach is expected to be complete by mid-August.
Apartments are being renovated according to a design inspired by the region's tropical environment, and include new carpet in bedrooms, new furniture, soft furnishings and décor, and bathroom work where it has been required. A number of club owners have already been able to enjoy the new look and feel. We will have a photographer take some pictures once a room is free and update our photo libraries and the website as soon as we can afterward!
In addition to the apartment refurbishment, new furnishings will be installed in the onsite restaurant, Tides.
If you are looking to stay at Club Wyndham Airlie Beach, please keep up-to-date with the resort's Before You Go page on the Club Wyndham South Pacific website. We will also send notifications to affected owners with reservations.
ONSITE FOOD AND BEVERAGE
A number of your club resorts now have food and beverage outlets on site and they continue to focus on innovating to improve the range and convenience of their offerings. For example, at Club Wyndham Torquay, hungry owners or guests can order pizza any hour of the day or night. The bar has also a brand new cocktail menu with a diverse range, including six drinks developed by our staff.
The new café at Club Wyndham Flynns Beach continues to go from strength to strength and is now called Henry's, after one of the koalas living onsite. Our popular café at Club Wyndham Kirra Beach will soon go by its new name, Kahuna Café.
EXPANDED OWNER SERVICES HOURS
Your Owner Services team is now more accessible than ever. We recently announced the team will be available for an extra two hours on weekdays, for the convenience of people who work into the early evening.
These are the team's hours:
Monday to Friday – 7am to 9pm
Saturday – 8.30am to 4.30pm
Sunday – 8.30am to 4.30pm
All times are in Australian Eastern Standard Time (AEST), which is Queensland time.
If you need to contact the team outside of those hours, please email owner.services@wyn.com and receive a reply in three business days.
Thank you for your support so far this year and we wish you happy and safe travels in the coming months. Our teams look forward to welcoming more owners to Club Wyndham Flynns Beach and Club Wyndham Coffs Harbour soon!
Warren Cullum
Senior Vice President Operations