Hi all,
Our operations teams are keeping a close eye on the constantly evolving COVID-19 situation in Australia. Unfortunately we have had to once again close Club Wyndham Melbourne this week, but we are hopeful that the lockdown of Metropolitan Melbourne will improve the COVID-19 numbers in the long-term.
To date, we have kept all our other Victorian resorts open and these are now almost exclusively serving owners from regional Victoria, where the caseload is still low.
We appreciate your patience when it comes to decisions regarding COVID-19. The situation changes from day to day with no warning and there are no events of similar magnitude to use as a precedent.
Despite the uncertainty of COVID-19, we are still making progress with our planned refurbishment projects. I'd like to update you on these in this week's Resort Report.
Ramada Resort by Wyndham Phillip Island
The refurbishment taking place at Phillip Island is progressing according to schedule and is still slated to finish within quarter three (this quarter).
The project includes the refurbishment of 83 villas acquired mid-2019 as well as the 54 Club Wyndham South Pacific villas at the property before that date. We are currently in the seventh stage of the 10-stage project and have completed work on the vast majority of the new inventory.
Some of the new inventory will be available soon, pending some finishing internal touches, while we expect that our first Deluxe and Grand Villas at the property will be available for reservations in the coming months.
New villas will boast refurbished kitchens and bathrooms, new furniture, beds, and fresh paint. Each Grand villa also includes a fireplace, a patio with a roof and high-quality finishes.
Existing villas will feature new designs with fresh paint, while flooring, furniture and décor will be replaced. There will also be some kitchen upgrades to cabinetry and splashbacks and ceiling fans added in bedrooms.
Here's some footage and photos of the progress currently being made.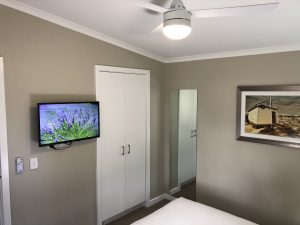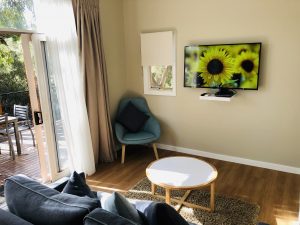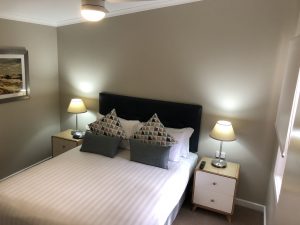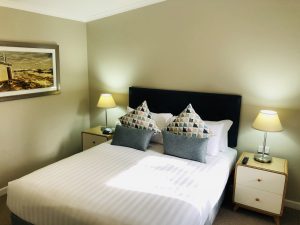 I am also pleased to announce that we will be creating an outdoor cinema experience at Ramada Phillip Island. This is one of the initiatives we had been working on during the recent COVID-19 closure and is designed to enhance the experience of Club Wyndham South Pacific owners at the property – whether they are families, couples or travelling by themselves.
The six-metre screen will be positioned on the grass area in front of the reception and Flame Trees. We are aiming to launch it during the September holidays, depending on COVID-19 restrictions on public gatherings. In the coming weeks, we will provide more information about when it will be in operation.
When we acquired an additional 83 villas at Ramada Phillip Island last year, we stated our intention to take the resort to a new level that would provide a better experience. The new fire pit, renewal of the restaurant, refurbishment and now this outdoor cinema are just some ways we are doing this.
Club Wyndham Port Douglas
Our refurbishment of the 88 club apartments at Club Wyndham Port Douglas has reached the halfway point, with two of the four stages now completed.
All apartments are receiving new paint, flooring and resort-style furniture with timber accents and sofa beds. Each room will also showcase one real underwater photo from the Great Barrier Reef taken by an award-winning photographer.
The project is expected to be completed next month and newly refurbished apartments will be available for reservations from then.
Here are some progress photos of the project.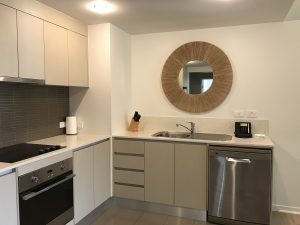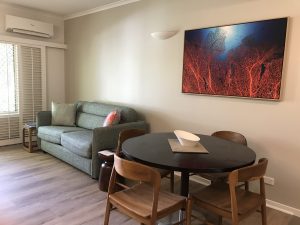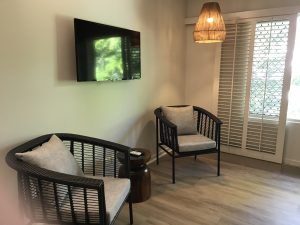 Resort activities
As you are aware, our teams have been making more activities complimentary for owners and families at their club resorts. Some of these include:
Body boards at Club Wyndham Flynns Beach
Stand up paddle boards at Club Wyndham Shoal Bay
Kids' quad bikes at Ramada Phillip Island
Fishing gear at Club Wyndham Airlie Beach
Wii games at Club Wyndham Wanaka
Paddle boats at Club Wyndham Ballarat
Motorised scooters at Club Wyndham Torquay
Full lists of these complimentary activities will soon be online at the resort pages and Before You Go pages on clubwyndhamsp.com.
Our teams are excited to roll out these new initiatives for you and we hope you enjoy them. In the weeks to come, our Resort Report will look at upcoming projects and provide additional details around the future rollout of complimentary Wi-Fi.
We look forward to seeing you soon.
Warren Cullum
Vice President Operations
Wyndham Destinations Asia Pacific