CHANGE IN GOVERNMENT RESTRICTIONS
We are continually monitoring the ever-changing COVID-19 situation and responding to the latest directions from state governments and health authorities. Yesterday, the Victorian Government announced new restrictions on "hot zones" within Melbourne where it considers that there is a heightened risk of transmission. You can see the full list on the Victorian Government website here. The restrictions will prevent owners currently residing in those areas from travelling to club resorts so our Owner Services team is reaching out to all owners with an address in those areas to cancel reservations up until and including July 29. Your credits will be returned to your account and, if they are expired, you will receive a voucher within 14 days for future use.
Meanwhile, the Queensland Government announced that it will re-open the border to all states and territories except Victoria from July 10. While that is a welcome announcement for many owners looking to travel into Queensland, you should check all restrictions and quarantine requirements that may apply as you travel to, through and from different states or territories. We have not offered club properties as quarantine facilities and we will not be permitting self-isolation at a club property, as quarantine facilities require enhanced protocols and security which impose a significant additional cost on owner levies.
Any Victorian resident, or anyone who has been to or travelled through Victoria in the previous two weeks who is travelling to Queensland for non-essential travel will be required to serve a two-week quarantine at a government arranged hotel at their own cost and will be unable to do so at a Wyndham property. Given the certainty now provided by the Queensland Government, if you have a Victorian residential address on file and you have a reservation in Queensland with a July arrival date, our Owner Services team has sent you a text message for cancellation purposes. Please confirm your cancellation as quickly as you can if this border closure affects you and your credits will be returned to your account and, if they are expired, you will receive a voucher within 14 days for future use.
AUGUST INTERNATIONAL RESORTS
We are already cancelling reservations at Club Wyndham Denarau Island in Fiji during August. Soon, our Owner Services team will begin cancelling August reservations at club properties in Thailand, Indonesia, Japan, Europe and Hawaii, except for owners who our records show live in the same country as the resort where they were planning to stay. Your credits will be returned to your account and, if they are expired, you will receive a voucher for future use.
Our Owner Services team will process these cancellations – there is no need for you to call in, unless your details are not up to date. In that case, please contact Owner Services for assistance:
AU: 1300 850 160
NZ: 0800 850 160
FJ: 00 800 32 63
Intl: +61 7 5512 8021
owner.services@wyn.com
RESORT REOPENINGS
We are re-opening the remainder of our Australian resorts. Our teams at these resorts have been preparing for some time and are excited to finally welcome you back.
These properties are:
Club Wyndham Port Douglas
Club Wyndham Cairns
Club Wyndham Airlie Beach Whitsundays
Club Wyndham Crown Towers
Club Wyndham Surfers Paradise
Club Wyndham Pokolbin Hill
Club Wyndham Port Stephens
Club Wyndham Sydney
Club Wyndham Lakes Entrance
Club Wyndham Ballarat
Club Wyndham Perth
I am pleased to announce that we have decided to remove the occupancy cap at Club Wyndham Dunsborough from tomorrow, based upon Western Australia's success so far containing COVID-19 and the spacious layout of the property. We are regularly reviewing the occupancy levels that we have set at other resorts and will let you know if we make changes.
CURRENT AVAILABILITY
There remains some availability at a selection of resorts in July, while there are still plenty of options during August. The snapshot below provides an indication of availability – you can see live availability of your preferred resorts and room types in the owner section of clubwyndhamsp.com.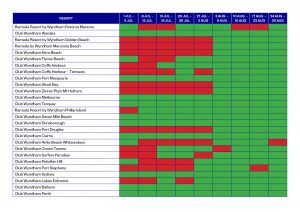 You can make a booking online at clubwyndhamsp.com or by calling Owner Services using the numbers above.
Please check your local restrictions on travel and overnight accommodation before making a booking, as all new reservations are subject to the standard club cancellation policies. Some properties may also have reduced facilities or amenities, in line with local COVID-19 restrictions.
FEEDBACK
Early feedback following the re-opening of club resorts in Australia and New Zealand suggests that you, our valued owners, are welcoming our enhanced health and hygiene measures onsite.
In your post-stay surveys, you gave an average rating of between 8.8 and 9.1 for the steps we have taken to keep you safe, providing clear and easy-to-follow guidelines and signage, and giving you ample warning about the precautions in pre-arrival communication. A number of owners also addressed our emphasis on safety in their written comments. We appreciate your feedback and we look forward to continuing to provide a clean and hygienic environment for your stay, now and into the future.
We are pleased to have re-opened so many of your resorts so soon after COVID-19 hit. We continue to monitor the restrictions on international travel and hope that we will be able to welcome you back to more properties in the near future.
Warren Cullum
Vice President Operations
Wyndham Destinations Asia Pacific