CLUB WYNDHAM DENARAU ISLAND
With predictions emerging that it may be 2021 before international travel resumes, we have made the difficult decision to delay the opening of Club Wyndham Denarau Island. The resort will open on September 1 at the earliest for existing bookings. New bookings at Club Wyndham Denarau Island are only available from October 1, 2020. These dates could change as we continue to assessing it on a regular basis and will give you plenty of notice.
At this point, we have also not opened the resort to local Club Wyndham owners living in Fiji. There are local government restrictions in effect that mean we cannot provide guarantees around the operation of the pool, food and beverage outlets and other amenities, which would severely impact on the resort experience. This may change at a later date and, for those who want to use Club Wyndham Denarau Island, we appreciate your patience.
If you have a reservation at the resort during August, our Owner Services team will send you an email to confirm the cancellation. Your credits used in the reservation will be returned to your account and a voucher issued for future use in place of expired credits. There is no need for you to call Owner Services; the team will complete this process for you within 14 days of the cancellation.
We understand that Club Wyndham Denarau Island is a favourite property of many club owners and we have not made this decision lightly. We have left the decision as late as possible in order to give owners the greatest possible chance of seeing their reservations in Fiji honoured.
ASSOCIATE RESORT – TRYP FORTITUDE VALLEY HOTEL, BRISBANE
Associate Resort TRYP Fortitude Valley will remain closed until October 1. Our Owner Services team will also systematically work through existing bookings; credits used in reservations at the property will be returned to your account or a voucher issued for future use in place of expired credits.
CURRENT AVAILABILITY
It is pleasing to see the popularity of your resorts in Australia and New Zealand. There remains some availability left at a selection of properties, as you can see in the snapshot below from earlier today. To see live availability for your preferred room type, log in to the owner section of clubwyndhamsp.com.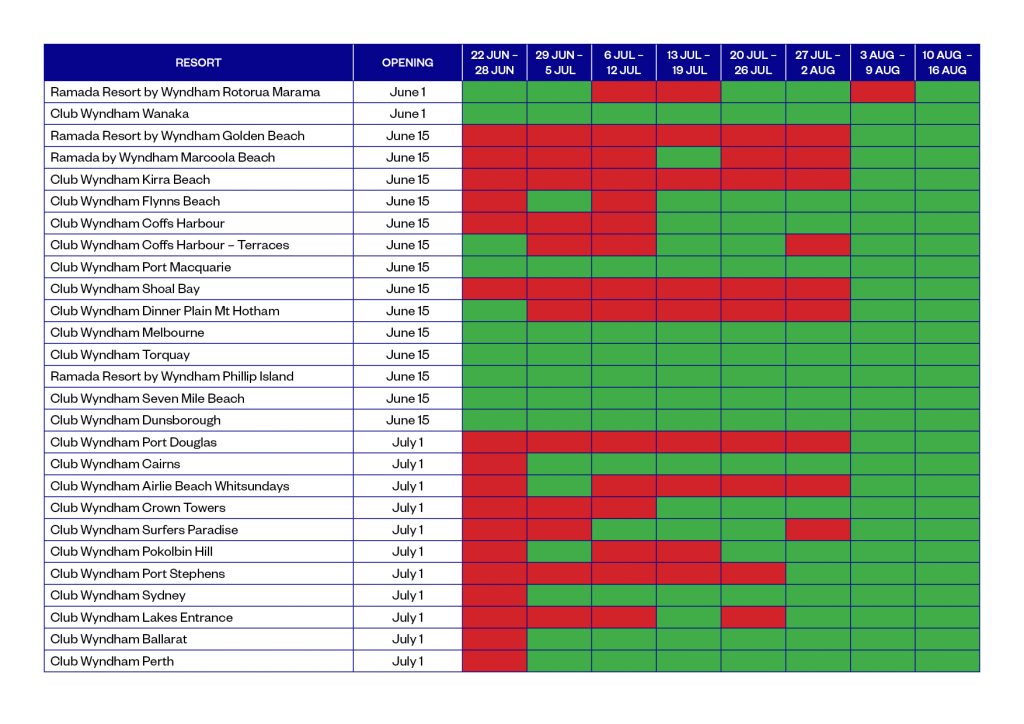 You can make a booking online at clubwyndhamsp.com or by calling Owner Services:
AU: 1300 850 160
NZ: 0800 850 160
FJ: 00 800 32 63
Intl: +61 7 5512 8021
Please check your local restrictions on travel and overnight accommodation before making a booking, as all new reservations are subject to the standard club cancellation policies. Some properties may also have reduced facilities or amenities, in line with local COVID-19 restrictions.
You can see our updated re-opening roadmap by following this link:
https://clubwyndhamsp.com/wp-content/uploads/2020/06/Resort-Opening-Post-CWSP-updated-June-11-scaled.jpg
A NOTE ON THE PANDEMIC
One of the most difficult things about overseeing a resort portfolio during COVID-19 has been its unpredictability. Even now, there are some concerns in Australia and New Zealand about the potential for a second wave, when both countries previously seemed firmly on top of the virus. Our teams are staying up-to-date with the latest restrictions and guidance from regional, national and international health authorities.
I want to reassure you that we do receive your feedback on our COVID-19 response from social media, post-stay surveys, phone calls with our Owner Services team and through other means and we review it regularly. Your feedback highlights the many challenges there are to balance during this unprecedented time. One of the most obvious is how we provide space for owners who want to ease back into life after a pandemic while releasing as much inventory as we can for those who are not as concerned. Our teams are determined to get the balance right and are motivated to make decisions in the best interests of the club's nearly 60,000 owners.
Please continue to give us your feedback – we do value it. Thank you for your patience as we navigate these uncharted waters.
We are looking forward to welcoming you to the 11 Australian properties re-opening next week.
Warren Cullum
Vice President Operations
Wyndham Destinations Asia Pacific