Has it been a while since you heard from Club Wyndham South Pacific? Or are you concerned you are missing important updates?
It is easy to re-subscribe to our mailing list or check that you are receiving everything you should.
Modern email distribution systems make it simple to unsubscribe – typically, all you need to do is click on a link down the bottom of the email. Once that happens, the distribution system deletes you from the email list automatically and permanently.
Our email lists are constantly being updated to reflect new owners to the club and owners who have chosen to unsubscribe. We do not assume anyone who has unsubscribed has done so in error, so we do not add them again without their permission – no matter the importance we place on our message.
If you have dropped off the email list because you have unsubscribed – or you are not sure what has happened – there is an easy way to go back on the list.
All you need to do is fill out this simple form online:
https://us2.list-manage.com/subscribe?u=0d9a7cc916681abe66f174498&id=a3319891b3
The form also breaks down the four distinct email lists, for the following:
Travel Club deals and specials
Club information and updates
Sales and marketing promotions
Club deals and discounts
You can also use the form to update your email preferences and choose what you would like to receive. If you would like to do this at a later date, you can log in as an owner at clubwyndhamsp.com and the Owner Dashboard, by clicking on the link displayed below.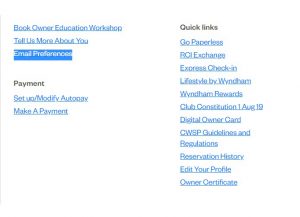 We look forward to communicating with you soon.
The Club Wyndham South Pacific team