Due to the impact of Covid-19, availability at this resort has been suspended indefinitely.
Ramada Bali Sunset Road is perfectly positioned in the active and vibrant district of Kuta, Bali – one of the most popular tourist attractions in Indonesia. Our resort-style hotel is within walking distance of city sights, exciting attractions and the turquoise waters of the Indian Ocean.
The resort is perfectly positioned for you to conveniently access a wide array of experiences. See where tourism began in Bali at Kuta Beach, mingle with the locals at the night market, get close to majestic beasts at the Bali Safari and Marine Park or enjoy a day of excitement at Waterbom Park.
Alternatively, you might choose to stay and enjoy the excellent resort facilities, which include a restaurant and bar, lagoon-style pool, lap pool, rooftop pool, poolside bar, free Wi-Fi, health club, spa and massage treatments and plenty of event space.
Ramada Bali Sunset Road
Jl. Sunset Road No.9 Kuta, Bali 80361, Indonesia
How to Reach
Amenities
Function centre
Day spa
Parking
Restaurant and bar
Lounge
Outdoor pool
Laundry facilities
Internet access
Fitness centre with gym
Reception Hours: 24 hours
Check-in Time: 2:00pm    Check-out Time: 11:00am
Privileges Benefits: This property is a contracted resort and is not managed by Wyndham therefore Privileges benefits do not apply.
City Location: This resort is located 3 kilometres from Kuta Beach and transport to and from the beach is required. This is considered a CBD resort and is located on a main thoroughfare road along with many other hotels.
Please note:
Bookings are available for stays until 31 May 2020
Rooms cannot be booked within 14 days prior to check-in
*Associate Resorts are an additional benefit offered by the developer, Wyndham Destinations Asia Pacific, and provide more destinations for Privileges Members throughout Asia and the South Pacific. Associate Resorts are not owned by Club Wyndham South Pacific, but have been carefully selected to offer a variety of locations and maintain quality and service. Privileges Members can access Associate Resort reservations 13 months in advance, and Privileges Elite, Diamond and Platinum Members have a 14-month booking window. Club Wyndham South Pacific Premier Owners, who are not Privileges Members, are granted limited access to some Associate Resorts and are subject to additional restrictions as determined by Wyndham Destinations Asia Pacific from time to time. Where the Privileges logo appears on the Associate Resort page, please note this resort is available to Privileges Members only. Wyndham Destinations Asia Pacific may remove or modify Associate Resorts without notice at any time.
Room Type
Air Conditioning

Heating

Balcony or Deck

Bed Configuration

Bedding in lounge

Internet Access

Kitchen

Dishwasher

Number of Bathrooms

Shower/bath

Washer/Dryer (in unit)

Superior Room
Full
--
Q
--
--
-
--
1
S
--

Maximum occupancy 2
Bedding configuration  queen size bed (cannot be split – Room with Twin bedding can be requested but not guaranteed
32″ LCD TV with premium channels
NDD/IDD telephone
Individually controlled air-conditionin
Mini-bar
Safety Deposit Box
Iron & Ironing Board
Complimentary Wireless access
No Kitchen – coffee and tea making Facilities and mini refrigerator only
Walk in Shower
Hair Dryer
Free Toiletries
Rooms with Balcony are located from level 2 – 7. Rooms on level 1 have no balcony. Superior Rooms located on level 1 & 2 have no view, and rooms on level 3 ,5, 6 & 7 have city view – Specific levels can be requested but no guarantee.
EXTRAS:
Complimentary Daily Turn Down Service & Daily Buffet Breakfast
Complimentary Child Cot and/or Highchair available upon request (subject to availability)

*Rollaway Beds not available for this room

Deluxe Room
Full
--
Q
--
--
-
--
1
S
--

Maximum Occupancy 2
Bedding configuration Queen size bed – Room with twin bedding can be requested but not guaranteed
32″ LCD TV with premium channel
NDD/IDD telephone
Individually controlled air-conditioning
Mini-bar
Safety deposit box
Iron & Ironing board
Complimentary Wireless access
No Kitchen – Coffee and tea making facilities and mini refrigerator only
Bathroom with walk in shower, hair dryer, free toiletries
Superior outlook & desirable location
Rooms with balcony are located from level 2 – 7. Rooms on level 1 have pool access. Deluxe rooms located on level 2 have a pool view, and rooms on level 3, 5 , 6 & 7 have pool and city view- Specific Levels can be requested but no guarantee.
EXTRAS : 
Complimentary Daily Turn Down Service & Daily Buffet Breakfast
Complimentary Child Cot and/or Highchair available upon request (subject to availability)

*Rollaway Beds not available for this room

Junior Suite
full
--
2 bed Q + SS
--
-
--
1
SB
--

Maximum Occupancy 3 *Can accommodate a 4th person on a rollaway bed, including daily buffet breakfast or an additional fee per night payable to resort (see Before You Go – Kuta, Bali page for more information) – Must not exceed maximum occupancy
Bedding configuration Queen Size Bed & 1 Single
Balcony
Separate living area and bedrooms
NDD/IDD telephone
Individually controlled air-conditioning
Mini-bar
Safety deposit box
Iron & ironing board
Complimentary wireless access
LCD TV with International Channels
Air-conditioning
No Kitchen – Coffee and tea making facilities, mini refrigerator, toaster and microwave only
Bathroom with shower over bath, hair dryer, free toiletries
Rooms with balcony are located from level 2 – 7. Rooms on level 1 have pool access. Junior suites located on level 2 have pool view, and rooms on level 3, 6 & 7 have pool and/or city view.
EXTRAS:
Complimentary daily turn down service & daily buffet breakfast
Complimentary child cot and/or highchair available upon request (subject to availability)
Superior Room
Air Conditioning

Full

Heating

--

Balcony or Deck

Bed Configuration

Q

Bedding in lounge

--

Internet Access

--

Kitchen

-

Dishwasher

--

Number of Bathrooms

1

Shower/bath

S

Washer/Dryer (in unit)

--

Maximum occupancy 2
Bedding configuration  queen size bed (cannot be split – Room with Twin bedding can be requested but not guaranteed
32″ LCD TV with premium channels
NDD/IDD telephone
Individually controlled air-conditionin
Mini-bar
Safety Deposit Box
Iron & Ironing Board
Complimentary Wireless access
No Kitchen – coffee and tea making Facilities and mini refrigerator only
Walk in Shower
Hair Dryer
Free Toiletries
Rooms with Balcony are located from level 2 – 7. Rooms on level 1 have no balcony. Superior Rooms located on level 1 & 2 have no view, and rooms on level 3 ,5, 6 & 7 have city view – Specific levels can be requested but no guarantee.
EXTRAS:
Complimentary Daily Turn Down Service & Daily Buffet Breakfast
Complimentary Child Cot and/or Highchair available upon request (subject to availability)

*Rollaway Beds not available for this room
Deluxe Room
Air Conditioning

Full

Heating

--

Balcony or Deck

Bed Configuration

Q

Bedding in lounge

--

Internet Access

--

Kitchen

-

Dishwasher

--

Number of Bathrooms

1

Shower/bath

S

Washer/Dryer (in unit)

--

Maximum Occupancy 2
Bedding configuration Queen size bed – Room with twin bedding can be requested but not guaranteed
32″ LCD TV with premium channel
NDD/IDD telephone
Individually controlled air-conditioning
Mini-bar
Safety deposit box
Iron & Ironing board
Complimentary Wireless access
No Kitchen – Coffee and tea making facilities and mini refrigerator only
Bathroom with walk in shower, hair dryer, free toiletries
Superior outlook & desirable location
Rooms with balcony are located from level 2 – 7. Rooms on level 1 have pool access. Deluxe rooms located on level 2 have a pool view, and rooms on level 3, 5 , 6 & 7 have pool and city view- Specific Levels can be requested but no guarantee.
EXTRAS : 
Complimentary Daily Turn Down Service & Daily Buffet Breakfast
Complimentary Child Cot and/or Highchair available upon request (subject to availability)

*Rollaway Beds not available for this room
Junior Suite
Air Conditioning

full

Heating

--

Balcony or Deck

Bed Configuration

2 bed Q + SS

Bedding in lounge

--

Internet Access

Kitchen

-

Dishwasher

--

Number of Bathrooms

1

Shower/bath

SB

Washer/Dryer (in unit)

--

Maximum Occupancy 3 *Can accommodate a 4th person on a rollaway bed, including daily buffet breakfast or an additional fee per night payable to resort (see Before You Go – Kuta, Bali page for more information) – Must not exceed maximum occupancy
Bedding configuration Queen Size Bed & 1 Single
Balcony
Separate living area and bedrooms
NDD/IDD telephone
Individually controlled air-conditioning
Mini-bar
Safety deposit box
Iron & ironing board
Complimentary wireless access
LCD TV with International Channels
Air-conditioning
No Kitchen – Coffee and tea making facilities, mini refrigerator, toaster and microwave only
Bathroom with shower over bath, hair dryer, free toiletries
Rooms with balcony are located from level 2 – 7. Rooms on level 1 have pool access. Junior suites located on level 2 have pool view, and rooms on level 3, 6 & 7 have pool and/or city view.
EXTRAS:
Complimentary daily turn down service & daily buffet breakfast
Complimentary child cot and/or highchair available upon request (subject to availability)
Credit Chart & Seasonality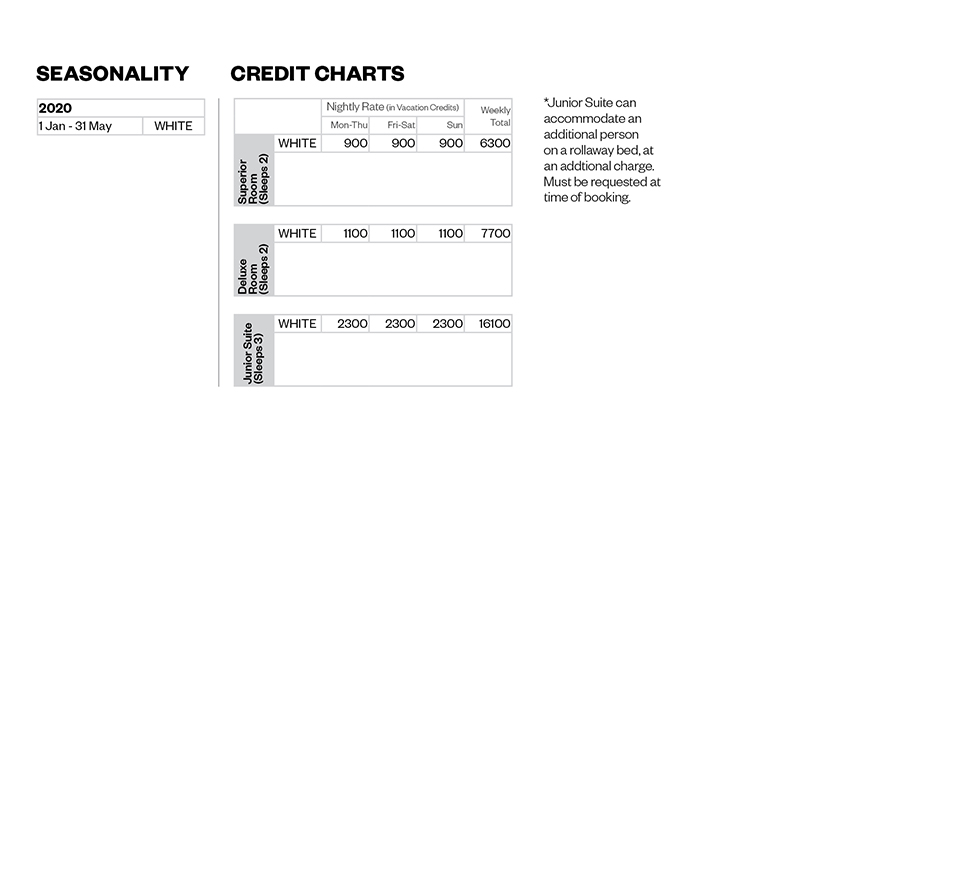 Resort Credit Calculator
Click here to instantly calculate the credits required for your holiday