Due to the impact of Covid-19, availability at this resort has been suspended indefinitely.
Exceptional service and well-appointed guest rooms combine for the ultimate holiday experience at Ramada Singapore.
After a busy day exploring the delights of Singapore, relax by the swimming pool, work out in the gym or visit the adjoining retail mall, which boasts a range of shops and eateries.
The hotel also features 'Flavours at Zhongshan Park', a stylish restaurant offering delicious Straits Chinese cuisine, as well as the 'Heritage Lounge' - the perfect place for a cocktail and tapas.
Ramada Singapore
16 Ah Hood Road, Singapore 329982
How to Reach
Amenities
Pool
Restaurant and bar
Undercover Parking
Gym
Room service
Three function rooms
Reception Hours: 24 hours
Check-in Time: 2:00pm    Check-out Time: 12:00pm
Pool Hours: 7:00am to 10:00pm
Car Parking: Undercover car parking is available at the resort
Privileges Benefits: This property is a contracted resort and is not managed by Wyndham therefore Privileges benefits do not apply.
Laundry: Resort does not have guest laundry facilities, however, guests can send out their laundry at a charge (price list in the room).
*Important:
From Wednesday 1 April 2020, the complimentary shuttle bus services from Ramada Singapore will be discontinued till further notice. Guests can instead utilise the complimentary shuttle bus services provided by Zhongshan Mall. Shuttle routes and timings are available here: Zhongshan Mall Daily Shuttle Bus.
The New Ubin Zhongshan Park restaurant has provided some temporary changes in regards to their operating hours:
Buffet Breakfast: Daily: 06:00 am – 10:30 am
Ala-carte Lunch: Daily: 12:00 pm – 3:00 pm
Ala-carte Dinner: Daily: 6:00 pm – 10:00 pm (last order at 9:00 pm)
Before You Go – Ramada Singapore
Please note:
Bookings are available for stays until 31 December 2020
Rooms cannot be booked within 7 days prior to check-in
*Associate Resorts are an additional benefit offered by the developer, Wyndham Destinations Asia Pacific, and provide more destinations for Privileges Members throughout Asia and the South Pacific. Associate Resorts are not owned by Club Wyndham South Pacific, but have been carefully selected to offer a variety of locations and maintain quality and service. Privileges Members can access Associate Resort reservations 13 months in advance, and Privileges Elite, Diamond and Platinum Members have a 14-month booking window. Club Wyndham South Pacific Premier Owners, who are not Privileges Members, are granted limited access to some Associate Resorts and are subject to additional restrictions as determined by Wyndham Destinations Asia Pacific from time to time. Where the Privileges logo appears on the Associate Resort page, please note this resort is available to Privileges Members only. Wyndham Destinations Asia Pacific may remove or modify Associate Resorts without notice at any time.
Room Type
Air Conditioning

Heating

Balcony or Deck

Bed Configuration

Bedding in lounge

Internet Access

Kitchen

Dishwasher

Number of Bathrooms

Shower/bath

Washer/Dryer (in unit)

Hotel City View
Full
--
--
K or SS
--
--
-
--
1
S
--

•Maximum occupancy 2 people
• King or twin bed, with Serta mattress
• 1 Bathroom with shower, hairdryer and bathroom amenities
• Mini-refrigerator
• Coffee and tea making facilities
• 40″ LED flat-screen TV with cable channels
• In-room safe
• IPod docking station
• Work desk with lamp
• No guest laundry facilities in room, however guests can use the resorts laundry service at a charge (price list in room)

Rollaway Bed: Resort can offer a rollaway bed at a cost per night for a third person to stay, we strongly recommend a two-person maximum in each room due to the small size of each apartment
Hotel City View
Air Conditioning

Full

Heating

--

Balcony or Deck

--

Bed Configuration

K or SS

Bedding in lounge

--

Internet Access

--

Kitchen

-

Dishwasher

--

Number of Bathrooms

1

Shower/bath

S

Washer/Dryer (in unit)

--

•Maximum occupancy 2 people
• King or twin bed, with Serta mattress
• 1 Bathroom with shower, hairdryer and bathroom amenities
• Mini-refrigerator
• Coffee and tea making facilities
• 40″ LED flat-screen TV with cable channels
• In-room safe
• IPod docking station
• Work desk with lamp
• No guest laundry facilities in room, however guests can use the resorts laundry service at a charge (price list in room)

Rollaway Bed: Resort can offer a rollaway bed at a cost per night for a third person to stay, we strongly recommend a two-person maximum in each room due to the small size of each apartment
Credit Chart & Seasonality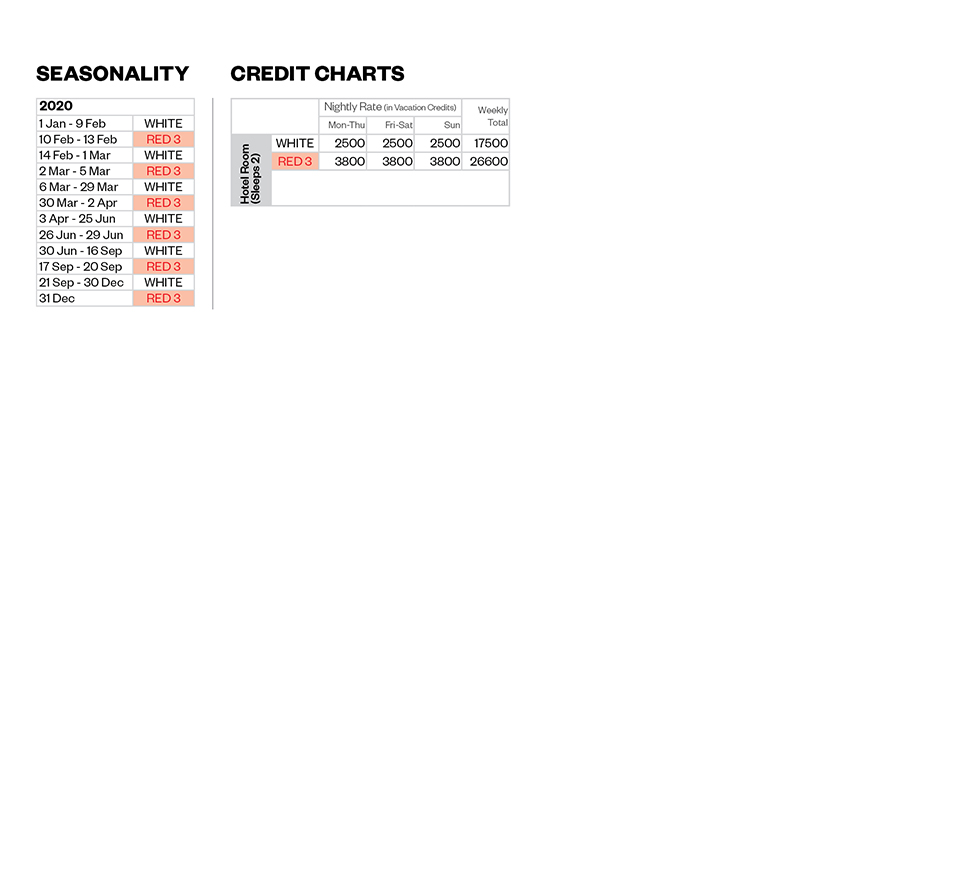 Resort Credit Calculator
Click here to instantly calculate the credits required for your holiday