Due to the impact of Covid-19, availability at this resort has been suspended indefinitely.
Ideally positioned in Brisbane's cultural epicentre, TRYP Fortitude Valley combines inner city living with everyday comfort, offering two different stylish and comfortable room types, both adorned with striking street art by Australian artists. Be mesmerised by this boutique Brisbane City hotel as you immerse yourself in its first-class service, stellar location and quirky design.
Just a 15-minute drive from Brisbane Airport and a stone's throw away from the city, this unique four-and-a-half star hotel offers state-of-the-art facilities including a gym and an intimate meeting room.
Available as an Associate Resort for a limited time only, TRYP Fortitude Valley features open-plan hotel rooms (not self-contained apartments).  All owners receive complimentary access to the onsite gym, free Wi-Fi and 24-Hour front desk assistance from TRYP Fortitude Valley's fantastic team.
TRYP Fortitude Valley
14-20 Constance Street, Fortitude Valley, QLD, 4006
How to Reach
Amenities
24-hour reception
Rooftop gym
Dirty Sultan (rooftop restaurant)
Function rooms
Valet or self parking options (charges apply)
Reception Hours: 24 hours, 7 days
Check-in Time: 2:00pm    Check-out Time: 10:00am
Swimming Pool: TRYP offers complimentary access to the Fortitude Valley Public Pool: https://www.valleypoolbrisbane.com.au/. Pool is less than 100m away from the hotel and tickets can be collected from reception.
Carparking: Public transport is readily available in central Brisbane as TRYP Hotel does not have any onsite car parking. There is secure parking available at an offsite car park. Cost is A$25 per night, payable to hotel for self-parking or A$40 per night, payable to the hotel for valet parking. Parking kerbside is limited and arrival details will be advised by the resort, prior to your arrival.
Privileges Benefits: This property is not managed by Wyndham therefore Privileges benefits do not apply.
Interconnecting Rooms:  Our apartments do not have interconnecting options, however owners can pay a fee directly to TRYP Fortitude Valley to upgrade and have interconnecting rooms. To upgrade to an interconnecting apartment, please call the hotel as soon as you have made your reservation with Club Wyndham as there are limited apartments available.
Onsite Restaurant: Dirty Sultan, the rooftop restaurant & bar is open 7 days 7:00am – 10:00am for breakfast. Dinner is served from 2.00pm – 10:00pm Thursday – Sunday. At this stage no room service or lunch is available.
Before You Go – Fortitude Valley, Brisbane
Please note: TRYP Fortitude Valley is an Associate Resort and bookings are available for stays until 31 August 2021. Rooms cannot be booked within 3 days prior to check-in.
*Associate Resorts are an additional benefit offered by the developer, Wyndham Destinations Asia Pacific, and provide more destinations for privileges Members throughout Asia and the South Pacific. Associate Resorts are not owned by Club Wyndham South Pacific, but have been carefully selected to offer a variety of locations and maintain quality and service. Privileges Members can access Associate Resort reservations 13 months in advance, and Privileges Elite, Diamond and Platinum Members have a 14-month booking window. Club Wyndham South Pacific Premier owners, who are not Privileges Members, are granted limited access to some Associate Resorts and are subject to additional restrictions as determined by Wyndham Destinations Asia Pacific from time to time. Where the Privileges logo appears on the Associate Resort page, please note this resort is available to Privileges Members only. Wyndham Destinations Asia Pacific may remove or modify Associate Resorts without notice at any time.
Room Type
Air Conditioning

Heating

Balcony or Deck

Bed Configuration

Bedding in lounge

Internet Access

Kitchen

Dishwasher

Number of Bathrooms

Shower/bath

Washer/Dryer (in unit)

Hotel - Queen
Full
--
Q
--
--
--
--
S
--

Maximum occupancy 2 people
Queen size bed
No kitchen – tea coffee making facilities only
Vittoria pod coffee machine
Mini bar (charges apply)
Free WiFi
40" interactive LSP TV – Foxtel sports – movies on demand
i Pod docking station with Bluetooth connectivity
If booking multiple apartments, and wanting them close together, we recommend booking the same room type to increase your chances. While all attempts will be made to accommodate request there is no guarantee due to best fit system
Owners can pay a fee directly to TRYP Fortitude Valley to upgrade and have interconnecting rooms. To upgrade to an interconnecting apartment, please call the hotel as soon as you have made your reservation with WorldMark as there are limited apartments available

Hotel - King
Full
--
K
--
--
--
--
S
--

Maximum occupancy 2 people
King size bed
No kitchen – tea coffee making facilities only
Vittoria pod coffee machine
Mini bar (charges apply)
Free WiFi
40" interactive LSP TV – Foxtel sports – movies on demand
i Pod docking station with Bluetooth connectivity
If booking multiple apartments, and wanting them close together, we recommend booking the same room type to increase your chances. While all attempts will be made to accommodate request there is no guarantee due to best fit system
Owners can pay a fee directly to TRYP Fortitude Valley to upgrade and have interconnecting rooms. To upgrade to an interconnecting apartment, please call the hotel as soon as you have made your reservation with WorldMark as there are limited apartments available

Hotel - Twin
Full
--
--
SS
--
--
--
--
--
S
--

Maximum occupancy 2 people
2 x Twin Beds
No kitchen – tea coffee making facilities only
Vittoria pod coffee machine
Mini bar (charges apply)
Free WiFi
40" interactive LSP TV – Foxtel sports – movies on demand
i Pod docking station with Bluetooth connectivity
Owners can pay a fee directly to TRYP Fortitude Valley to upgrade and have interconnecting rooms. To upgrade to an interconnecting apartment, please call the hotel as soon as you have made your reservation with WorldMark as there are limited apartments available
Hotel - Queen
Air Conditioning

Full

Heating

Balcony or Deck

--

Bed Configuration

Q

Bedding in lounge

--

Internet Access

Kitchen

--

Dishwasher

--

Number of Bathrooms

--

Shower/bath

S

Washer/Dryer (in unit)

--

Maximum occupancy 2 people
Queen size bed
No kitchen – tea coffee making facilities only
Vittoria pod coffee machine
Mini bar (charges apply)
Free WiFi
40" interactive LSP TV – Foxtel sports – movies on demand
i Pod docking station with Bluetooth connectivity
If booking multiple apartments, and wanting them close together, we recommend booking the same room type to increase your chances. While all attempts will be made to accommodate request there is no guarantee due to best fit system
Owners can pay a fee directly to TRYP Fortitude Valley to upgrade and have interconnecting rooms. To upgrade to an interconnecting apartment, please call the hotel as soon as you have made your reservation with WorldMark as there are limited apartments available
Hotel - King
Air Conditioning

Full

Heating

Balcony or Deck

--

Bed Configuration

K

Bedding in lounge

--

Internet Access

Kitchen

--

Dishwasher

--

Number of Bathrooms

--

Shower/bath

S

Washer/Dryer (in unit)

--

Maximum occupancy 2 people
King size bed
No kitchen – tea coffee making facilities only
Vittoria pod coffee machine
Mini bar (charges apply)
Free WiFi
40" interactive LSP TV – Foxtel sports – movies on demand
i Pod docking station with Bluetooth connectivity
If booking multiple apartments, and wanting them close together, we recommend booking the same room type to increase your chances. While all attempts will be made to accommodate request there is no guarantee due to best fit system
Owners can pay a fee directly to TRYP Fortitude Valley to upgrade and have interconnecting rooms. To upgrade to an interconnecting apartment, please call the hotel as soon as you have made your reservation with WorldMark as there are limited apartments available
Hotel - Twin
Air Conditioning

Full

Heating

--

Balcony or Deck

--

Bed Configuration

SS

Bedding in lounge

--

Internet Access

--

Kitchen

--

Dishwasher

--

Number of Bathrooms

--

Shower/bath

S

Washer/Dryer (in unit)

--

Maximum occupancy 2 people
2 x Twin Beds
No kitchen – tea coffee making facilities only
Vittoria pod coffee machine
Mini bar (charges apply)
Free WiFi
40" interactive LSP TV – Foxtel sports – movies on demand
i Pod docking station with Bluetooth connectivity
Owners can pay a fee directly to TRYP Fortitude Valley to upgrade and have interconnecting rooms. To upgrade to an interconnecting apartment, please call the hotel as soon as you have made your reservation with WorldMark as there are limited apartments available
Credit Chart & Seasonality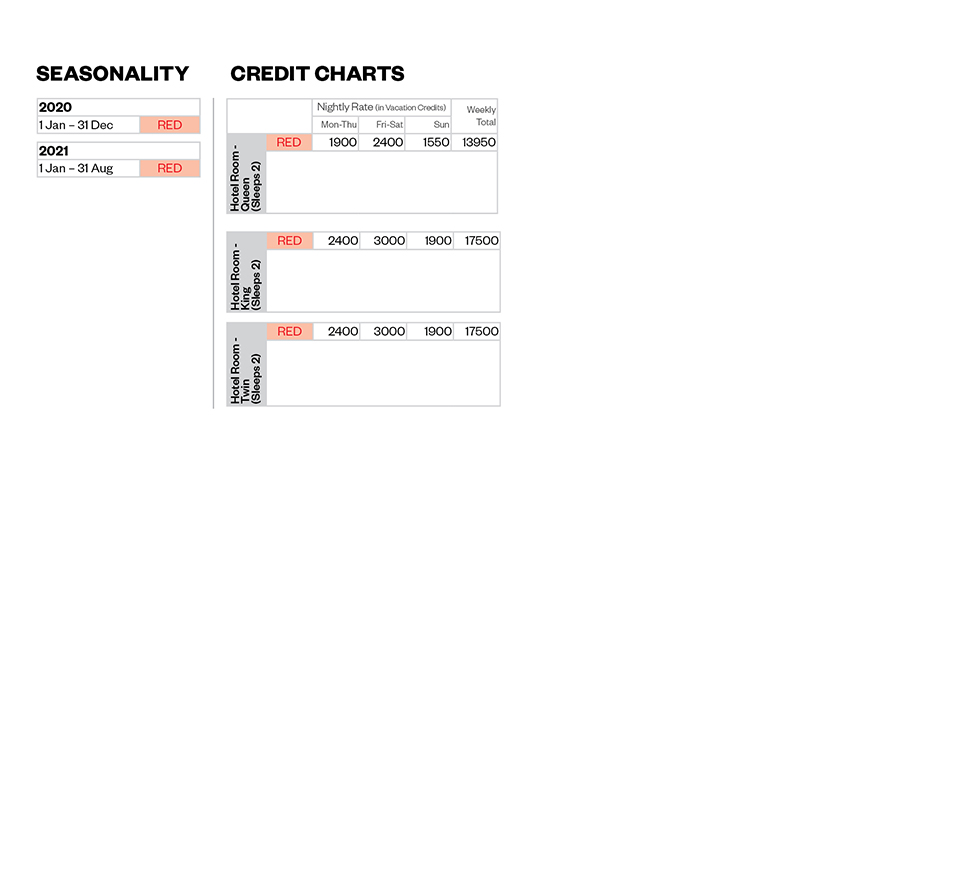 Resort Credit Calculator
Click here to instantly calculate the credits required for your holiday