FOR MANY, THE OPEN ROAD REPRESENTS THE TRUEST FORM OF FREEDOM: AN ENDLESS JOURNEY WHERE UNIFORMITY, PROCEDURE AND SCHEDULE ARE ALL LEFT BEHIND.
Thousands upon thousands of kilometres of road run the length and breadth of the South Pacific, with every intersection representing a crucial decision, every fork offering two very unique adventures. Road trips are the only way to see all the region's rich sights and wonders. So strap on the seatbelt, crank the music up, and hit the accelerator!
Like some music for your road trip? We've put together the ultimate Spotify Summer Road Trip Playlist to get you on your way! In the Spotify App, search for: spotify:user:worldmarksp
Great Ocean Road, Victoria
The 352-kilometre journey between Torquay and Portland could be completed in one afternoon – but should not be.
Bells Beach, at the start of the Great Ocean Road, is part of the World Surfing Tour and a spot avid surfers must visit – particularly those who appreciate having their ability
tested. Stay the night at Wyndham Resort Torquay and hit the waves in the morning!
At the southernmost point of the trip, Cape Otway, Australia's oldest working lighthouse stands proudly over sheer cliffs – and is a must-see. Also consider turning inland to explore the immense Great Otway National Park and see its famous waterfalls and flora.
The coastal drive is a blend of powerful waves, proud cliffs and unbelievable stone formations. Port Campbell is a necessary stop along the way to meet the 12 Apostles, as is Peterborough, which faces the limestone stacks at the Bay of Islands.
Toward the finish line lie well-known haunts of gentle ocean giants. Southern right whales give birth off Warrnambool during winter, while a giant fur seal colony has made Cape Bridgewater home.

NZ South Island
New Zealand's South Island is picturesque in any season – a spectrum of colour brings
it to life in summer while there is a simple beauty to its winter bareness.
Apollo Motorhome holidays are available to Privileges by Wyndham members. Collect your campervan at New Zealand's heritage heart, Christchurch, to start a looping road trip of the South Island. Snow chains are essential for winter driving.
Heading north, Nelson is home to the bright Marlborough Sounds, a popular spot for
kayaking, sailing, fishing and hiking. It is also one of New Zealand's best wine producing regions.
In the west, State Highway 6 leads to the Fox and Franz Josef Glaciers. Tour operators
can help you climb either of the pair. New Zealand's highest peak, Mount Cook (Aoraki) is nearby and a helicopter tour starting at Franz Josef is an unforgettable way to see this peak and the surrounding national park.
Deeper south, the picture-perfect towns of Wanaka and Queenstown are just a short drive from world-famous ski fields and a host of extreme attractions including jet boating, zip lining and bungee jumping. Stay the night at Wyndham Vacation Resorts Asia Pacific Wanaka and enjoy the array of fine dining experiences in the town, which are open until late.
Travel south to Te Anau and stop for a famous pie from Miles Better Pies, packed with local venison! From Te Anau, cut back to the northwest to access Milford Sound.
Numerous boats tour the fiords, which are deep channels formed by glacial erosion
and filled with still seawater, bordered by cliffs and vegetation-coated slopes.
Break up the Queenstown to Christchurch leg by stopping at Lake Tekapo. Ground
rock particles give the lake a unique milky-turquoise hue, while during the warmer
months, blooming grasses make its shores a kaleidoscope of colour. Part of a UNESCO
Dark Sky Reserve, it is also an excellent spot for some contemplative stargazing.

Cairns to Cape York
A Cairns to Cape York road trip is more than 1,000km and will definitely require more than one day.
The first part of this trip will take you past beautiful white sand beaches and some of the most visited parts of the Great Barrier Reef. Make sure you stop for the night at Ramada Resort Port Douglas and take a day for a tour of the reef or a snorkelling expedition. The tropical waters are temperate all year around, although stinger suits are recommended in summer.
The main road on this trip will take you past (and through) untouched reserves, including the Mungkan Kandju National Park, the Jardine River National Park, and the legendary Daintree Rainforest.
Take some time off the road and enjoy one of the many walking trails – and make sure you take your camera with you!
Once in Cape York, you can explore isolated wetlands or find your own watering hole for fishing. The road trip does not have to end there, either: a trio of unique self-drives will challenge the mettle of the most serious four-wheel enthusiast. Keep these in mind when you book your four wheel drive!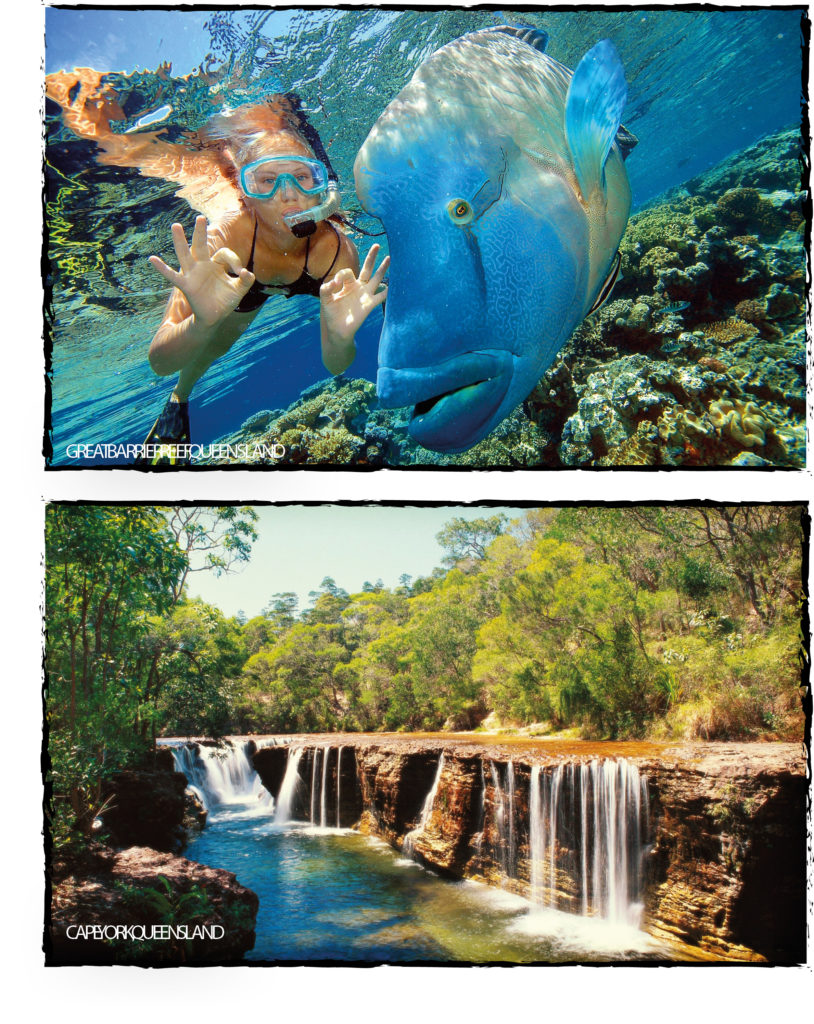 East Coast Tasmania
The Tasman Highway promises a different experience around every corner. Walk beautiful beaches and try gourmet food and wine, then visit native wildlife and historical sites all in  the same day or take your time and savour the diversity of experiences. The 279km trip looks short, but there are a host of places to stop.
Start in Hobart, Tasmania's capital and cultural hub. The Museum of Old and New Art is one of the state's key drawcards, with some of its exhibitions built into the Berridale Peninsula. The Hobart waterfront district is also a drawcard for foodies wanting freshly prepared local food and wine. Stay the night at Wyndham Vacation Resorts Seven Mile Beach before starting your road trip.
The next stop is Triabunna, for a day trip to Maria Island – an island with no permanent inhabitants. Explore pristine forests and plains by foot or hire a kayak to see untouched beaches and cliffs. Darlington Probation Station, a World Heritage listed convict site, is a must-see.
Further north, the Freycinet Peninsula is home to one of the state's first national parks. Freycinet National Park offers walks ranging in length from a few hours to multiple days. A few kilometres further, you can watch penguins at night or explore a marine sanctuary in a glassbottomed boat.
Lonely Planet's Hottest Destinations list made the Bay of Fires famous, but it remains unspoiled. Fifty kilometres in length, this untouched haven will urge you to explore and has the beauty to make the most ordinary photographer look extraordinary.

Gibb River , Western Australia
Some drivers love cruise control and sealed bitumen – others yearn for less-travelled outback paths. Nothing symbolises the road tripper's pioneering spirit more than an adventure through Australia's sunburnt country. A trip along the Gibb River Road will bring out your inner road warrior!
Ensure you book a vehicle with grunt for the trip from Apollo Motorhomes in Broome. Take plenty of water and extra fuel with you, and look at the forecast before starting to ensure the roads won't be flooded.
The epic 916km adventure to your Associate Resort, Ramada Eco Beach Resort, Broome in north Western Australia starts on the Great Northern Highway, but the Gibb River Road leg is challenging enough to take two days – and that may feel like a mad scramble.
The red cliffs, wild scrub and the pristine rivers of the rugged Kimberley will make you linger and many of the best spots will be off-road.
The still Windjana Gorge and mysterious Tunnel Creek lie to the southern side of the Gibb River Road, while a detour northwards will take you to the breathtaking Mitchell Falls and the town of Kalumburu (which requires an entry permit). Lennard, Bell and Galvans Gorges are all nearer to the Gibb River Road, while the picturesque cliffs of the
El Questro wilderness park are close to where the road re-joins the Great Northern Highway.
Freshen up before your trip at Ramada Eco Beach. Get ready by relaxing on the resort's exclusive unspoiled beach!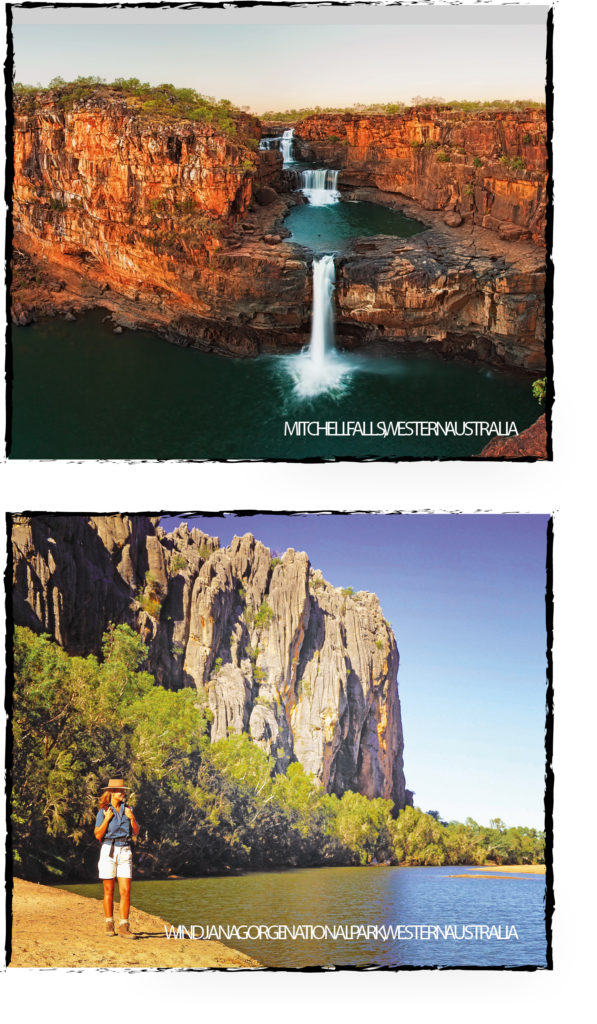 Get Started
Privileges members can use Credits with Apollo Motorhome Holidays, which has pick up locations near the starting points of these road trips. Apollo has vehicles suitable for any road or terrain, including campervans, motorhomes, four wheel drives and cars. Bookings must be made directly with Apollo, by mentioning the 'Wyndham Offer'.
Apollo Motorhome Holidays
Australia: 1800 777 779
New Zealand: 0800 113 131
www.apollocamper.com