Ballarat is best known for its gold rush history, but today visitors are uncovering gems of a  different kind. Quirky craft studios, kitsch art galleries and bustling markets are popping  up all over the city, thanks to the creative collective who call Ballarat home. Prepare to be inspired!
ART GALLERIES
Surrounded by stunning landscapes and home to scores of restored historic buildings,  Ballarat has all the ingredients needed for sensational art galleries. There is plenty of local talent to go on show, and with Melbourne less than two hours up the road, there is a steady stream of world-class pieces too.
Located in the historic city centre, the Art Gallery of Ballarat is Australia's oldest regional gallery boasting a range of exhibitions and a huge permanent collection. Lose yourself in a captivating world of paintings, artefacts and works representing Australia's rich history and contemporary culture. It's easy to get expert commentary during your gallery visit, with iPod tours available, as well as tours led by the gallery's dedicated volunteers. After a day of exploration, retreat to the surrounding streets, where you will find edgy cafés and  restaurants, antique stores and commercial galleries, where you can pick up your own little piece of Ballarat.
DESIGN YOUR VISIT 
ART GALLERY OF BALLARAT
40 Lydiard St North, Ballarat
Daily 10am – 5pm (Closed Christmas
Day and Boxing Day)
General admission is free
THE CONVENT GALLERY
Corner of Hill and Daly Streets,
Daylesford
Monday to Sunday 10am – 4pm
Admission $5
BACKSPACE GALLERY
15 Camp Street, Ballarat
Thursday to Sunday 12pm – 4pm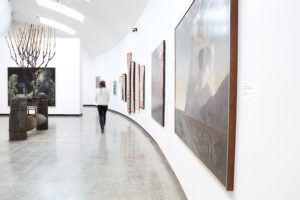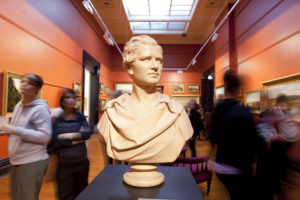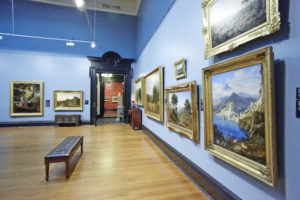 You don't have to go to a conventional gallery to see wonderful works in Ballarat – simply go for a walk through the historic city centre to discover pockets of hidden laneway art. Ballarat's Bridge Mall shopping precinct is full of hidden gems just waiting to be discovered. Wander down Time Lane and peek into nooks and crannies to spy tiny sculptures, or take a stroll up Foundry Way to admire the wire sculptures hanging above you. On Drury Lane you will discover sculptures depicting fluctuating gold prices during the height of the city's lucrative gold rush period.
For breathtaking views and an  unforgettable ambiance, you can't go past The Convent Gallery, located near the Wombat Hill Botanical Gardens at nearby Daylesford. Boasting the unofficial title of 'the most beautiful gallery in Australia' The Convent is a 19th century mansion, which also includes  a chapel, restaurant and lounge bar, a nuns' museum, and shops, set on six perfectly-manicured acres. Here you will find works in a range of styles  from artists of local, national and international fame. After enjoying the exhibits, head down to The Altar Bar for a martini, before embarking on a ghost tour of The Convent. The property has over 140 years of history and was once home to the Gold Commissioner, nuns and a boarding school, so there are plenty of tales to be told!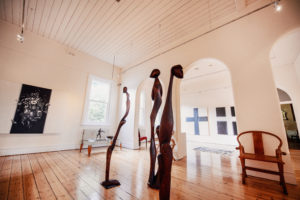 KITSCH CRAFT
From gorgeous handmade toys to fabulous 50s-style swimwear, Ballarat is a treasure trove  of quirky, one-of-a-kind purchases, with many vendors offering lessons in their  chosen craft. Why not book a crochet class or brush up on your knitting know-how next time you stay in Ballarat? Handicrafts are enjoying a huge resurgence at the moment, and you just might return home with a brand new hobby!
The Cotton Factory is a crafting hub for the Ballarat community, offering an impressive range of crafting supplies, plus a studio and classes to suit everyone. Have a go at hand stitching beautiful felt toys, creating your own fabric evening clutch or crocheting  a toasty knee rug, all under the watchful eye of talented crafters.
The Crafty Squirrel is another local haven for all things handmade, and is the working  studio shop of designer Morgan Wills. From vintage gifts to quality haberdashery and craft supplies, The Crafty Squirrel is a one-stop-shop for getting creative. It's easy to tell this  store is the decadent domain of a designer, with colourful and eclectic fabrics sitting  alongside kitsch craft project kits, and quirky homewares that have been made from old textiles, in the popular trend of 'upcycling'.
Fashion Design is also top class in Ballarat, and no one does ladies swimwear with a  difference better than My Sister Pat. A true Ballarat souvenir, these 1950s-style swimwear designs are made in Ballarat by local designers, and are figure flattering and long lasting. Pick yourself up a gorgeous swimsuit during your summer holiday, and compliment it with a classic shift dress from their lifestyle wear line.
Feed your love of design at The Upholstery Gallery, an absolute haven of unique  homewares, quirky knick-knacks, thoughtfully designed clothing and accessories, and leather goods. Run by interior designer Liz Green, The Upholstery Gallery sells the kind of things you never even knew you needed, including wallpaper, recycled-revamped chairs, cushions and lamps, plus organic Jasper coffee!
DESIGN YOUR VISIT 
COTTON FACTORY
128 Clyde Street, Ballarat
Studio hrs: Thursday to Saturday
10am – 3pm
THE CRAFTY SQUIRREL
Cnr of Errard & Urquhart Sts, Ballarat
Thursday to Friday 10am – 5pm
Saturday 10am – 4pm
MY SISTER PAT
74A Main Road, Ballarat
Open by appointment only
Call: 0407 959 706
THE UPHOLSTERY GALLERY
528 Mair Street, Ballarat
Tuesday to Thursday 9.30am – 5pm
Saturday 10am – 4pm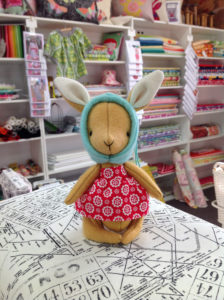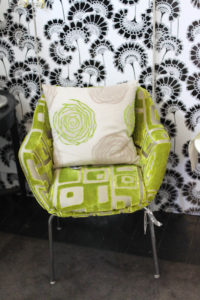 MARKET FINDS
The quality of a city's market scene is a sure indicator of the strength of its creative community – and Ballarat is no exception! Not only do markets provide a fun day out, they are also a treasure trove of one-of-a-kind finds, and are a great opportunity to meet the locals and learn about their trades.
Ballarat's The Design Exchange Market is a must-do shopping experience. While only held every few months, with the next one scheduled for Sunday, 1st March 2015, these  markets are worth the wait, featuring delicious local food, artisan products and emerging designers spread across more than 60 stalls. Designers must go through an application process to be selected to display their wares at The Design Exchange Market, so the level of quality is impressively high, with many stall holders at the top of their craft. Purchase handmade jewellery, unique pieces from painters and illustrators and creative  pottery, before settling down with a coffee and some woodfired pizza while being  entertained by local musicians. The market is located at The Mining Exchange, a stunning 1870s building that provides the perfect backdrop for a day out immersed in creativity!
If you are keen for a day trip, head to the historic township of Creswick, just a 20-minute drive from Ballarat, for The Creswick Market. Held on the third Saturday of every month, these markets are great for the whole family, boasting more than 80 boutique sites that sell arts and crafts, delicious delicacies and plenty of produce. The youngsters will love the
onsite playground and kids' entertainment, and the gourmet takeaway food will satisfy even the fussiest little eaters.
On the third Sunday of every month you will find the Talbot Farmers' Market, a huge community-based initiative located just a 40-minute drive from Ballarat. It's one of regional Victoria's best-loved markets, selling locally grown food, flowers and artisan food products. Choose from fresh soughdough loaves straight from the oven, fresh cream from the dairy, local wines, free range produce and even live pigs!
DESIGN YOUR VISIT
THE DESIGN EXCHANGE MARKET
Lydiard Street North
Next market 1st March 2015
THE CRESWICK MARKET
Creswick Neighbourhood Centre
Victoria Street, Creswick
Third Saturday of every month
TALBOT FARMERS' MARKET
Scandinavian Crescent, Talbot
Third Sunday of every month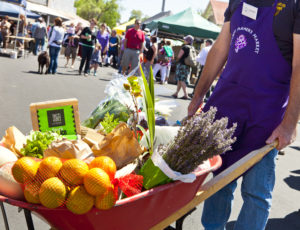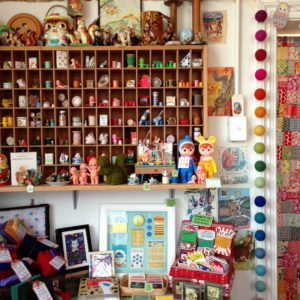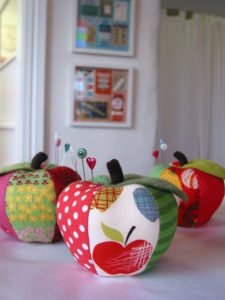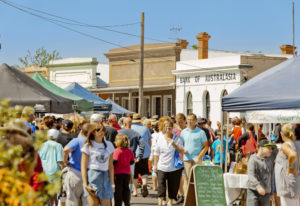 Ballarat is just over an hour's drive from Melbourne via the Western Freeway. Or, if you  are planning to explore the Great Ocean Road this summer, why not include Ballarat in your itinerary – it's just a 90-minute drive from Torquay. Your Club Wyndham accommodation in Ballarat, set in a heritage-listed mansion on beautifully manicured grounds, provides the perfect haven to explore this creative hotspot.