Has there ever been a time when your first choice of resort, room type or date for your next holiday was unavailable?
As a Club Wyndham Owner, you have the option to place Waitlist requests, which could help you get that holiday you wanted!
All cancellations made by Club Wyndham Owners are automatically sent to Owners on the Waitlist, before the accommodation becomes available in the general booking system again.
The system searches 24 hours a day, seven days a week for any cancellations that match a request, right up until 14 days* before the requested check-out date (30 days for Exotic resorts). Priority is given to those who have been waiting longest for the resorts or dates that have been cancelled and are now available.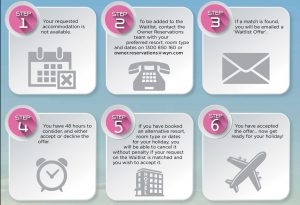 Top tips for getting a match
Request multiple resorts, room types and dates: This will improve your chances of finding a preferred option.
Think experience: When planning your holiday look for locations that will deliver the kind of holiday experience you are looking for! If you put your name on the Waitlist for multiple locations at one time you may just find yourself somewhere fantastic you had not originally planned on.
Be flexible with dates: Try and give a broad time-frame to search, for example, any five to seven nights over a two-week period.
Keep in contact: Don't miss out on a match! Check your emails regularly to see if you have a match, as new openings will be released within 48 hours of someone making a cancellation.
Whilst we have hundreds of Waitlist matches every week, and many delighted Owners, a Waitlist Request is not a guarantee of a booking. We simply cannot predict if another Owner will cancel the exact dates that you require.
What are the Rules?
You may request a waitlist from :
15 days to 13 months prior to check-in date at Club Wyndham South Pacific Resorts1
31 days to 13 months prior to check-in date at Exotic Resorts (Fiji)1
15 days to 11 months at Club Wyndham, the Club (US) resorts1
15 days to 8/9 months at Club Wyndham® Plus resorts2
15 days to 9/11 months for Club Wyndham Asia Access2
15 days to 3 /13 /14 months for Associate Resorts3
As set out in the Club Wyndham South Pacific Guidelines and Regulations and PDS
As set out in the Privileges by Wyndham Program Rules
Booking windows are dependent on if you are a Privileges by Wyndham Member
The Waitlist must follow all Club Wyndham South Pacific Guidelines & Regulations:
Waitlisting must be done for a full 7-night stay when the desired check in date in more than 9 months in advance
Less than 9 months in advance the Owner can waitlist for LESS than a week in Red Season 1 and 2
Any number of days may be waitlisted in White or Blue season at any time
Any number of days may be waitlisted in Red 3 – Red 9 Season at any time
The Weekend 2 night minimum also applies – You are unable to waitlist for just a Friday night unless a Thursday or Saturday night has already been confirmed. You are unable to waitlist for just a Saturday night unless a Friday or Sunday nights has already been confirmed.
Ok, I want to put on a Waitlist… What's next?
To create a waitlist in the Club Wyndham Reservation system, you must contact the Owner Reservations team by phone or email, and provide the Resort/s, date/s, and room type/s that you would like a Waitlist for.
You must nominate an email address, and preferably also a mobile phone number to be contacted on. To be sure that you never miss a Waitlist offer, when you create a Waitlist, ensure that you nominate an email address that you check often, and check your Junk Mail/Spam settings to accept emails from SPwaitlist@wyn.com
Within 72 hours of your waitlist being created, we will email you to confirm that your waitlist is place. This email will contain the details of resort, dates, and room type that the Waitlist is searching for.
If a match is found, the system will automatically email a 'Waitlist Offer' to the email address you provided, and the accommodation will hold on your account for 48 hours, allowing you time to consider the offer and respond. We will also attempt to send you a follow up SMS when a match has been found.
Now sit back and relax, and we'll do the searching for you!
How do I accept a Waitlist Offer?
Simply respond to the email offer, or speak with one of our friendly team within 48 hours.
Owner Services can be contacted on (AUS) 1300 850 160 (NZ) 0800 850 160 (FJ) 008 003 263.  Office hours are Monday – Friday 7am – 9pm, Saturday and Sunday 8.30am – 4.30pm AEST.
Discovery by Wyndham Members (AUS) 1300 306 026 (NZ) 0800 306 026. Office hours are Monday – Friday 8am – 4pm AEST.
Be sure to advise if the Waitlist Offer you are accepting is to replace an existing reservation so that the appropriate booking is cancelled.
If there are any applicable fees associated with this reservation (e.g. Housekeeping) we will need to speak with you to arrange payment prior to confirmation. Please be aware your reservation is not confirmed until all applicable fees are paid and a confirmation number is issued.