11 Days aboard Le Laperouse or Le Jacques Cartier ship
From AU$12,895* per person, twin share + $200 off per couple ending soon
SPECIAL OFFERS!
Save up to AU$4,600^ per couple + Free Cabin Upgrade *
EXTRA SAVINGS of $200 off per couple for new bookings until 6 November 2023

11 Days Small Ship Cruise - Broome to Darwin
Discover the rugged and beautiful Kimberley coast aboard the luxurious Le Jacques Cartier or the Le Laperouse. See stunning waterfalls and sea life-rich reefs, turquoise waters and ochre cliffs. Encounter the unique Horizontal Falls and Montgomery Reef, and visit sites filled with ancient Indigenous art.
HURRY OFFER ENDS SOON !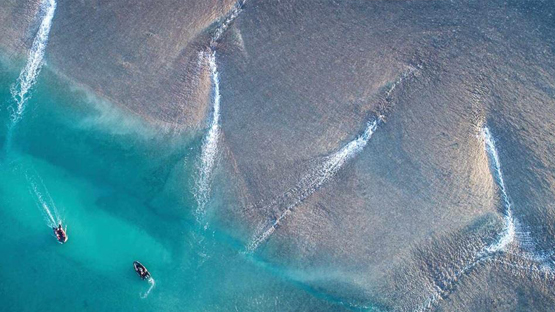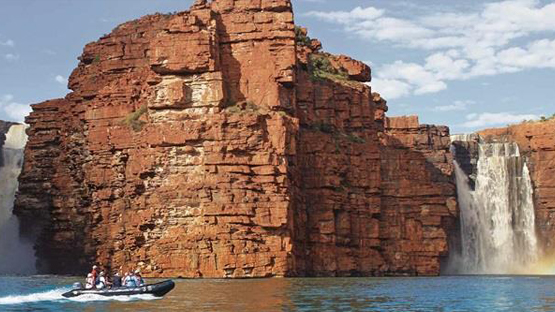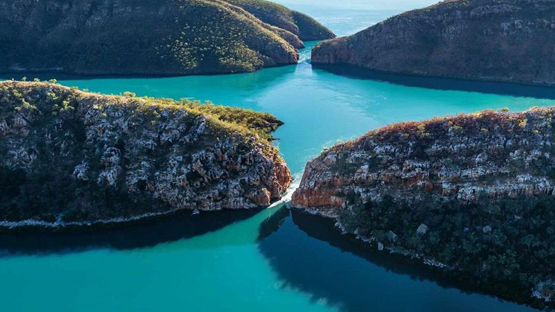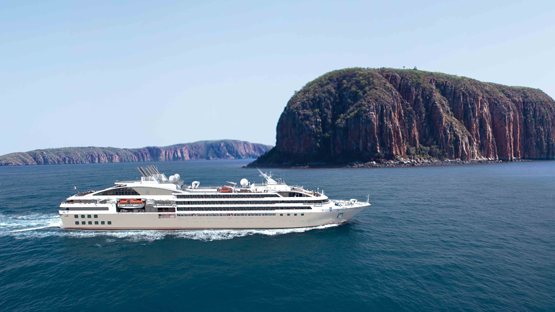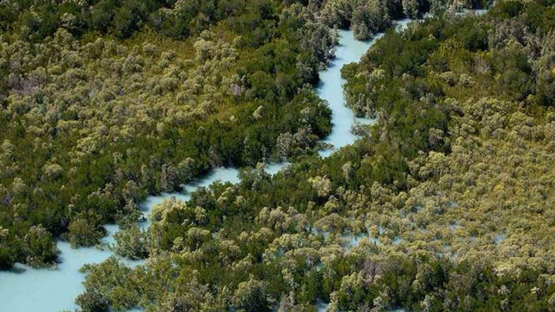 Rates
Price Per Person, Twin Share
Departs BROOME 
Departure Dates 
From Price
4 May – 14 May 2024
AU$14,645*
24 May – 3 June 2024
AU$14,645*
13 – 23 June 2024
AU$14,645*
23 July – 2 August 2024
AU$14,645*
12 – 22 August 2024
AU$13,345*
1 – 11 September 2024
AU$12,895*

.

Bookings subject to availability. Valid for sale until  sold out . Savings included in featured prices. $200 per couple will be applied at time of booking, valid until 6 November 2023. Sale Cabins are capacity controlled, and may sell out, so please book as soon as possible.
Inclusions
Includes:
10 nights aboard the luxury Le Laperouse or Le Jacques Cartier ship with daily excursions on Zodiac vessels
Experiences in 16 Destinations
The services of an APT cruise director and expert 12-member expedition team
View the incredible natural phenomenon Horizontal Falls
Locally inspired dining – a total of 29 meals and a wide range of onboard beverages
Join your expedition team to explore Montgomery Reef by Zodiac
Step ashore on Bigge Island and discover Indigenous rock art created by the Wunambal people.
Experience the natural wonder of King George Falls aboard a Zodiac
Itinerary: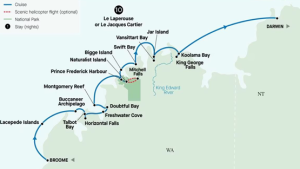 SIGNATURE EXPERIENCE Designed Exclusively for APT guests
These once-in-a-lifetime moments allow you to experience an unforgettable world of exclusive moments, incredible cultures and charming surprises
 Day 1: Arrive Broome, Embark Ship 
Welcome to Broome, a former pearling port and an ideal stepping stone to your Kimberley Coast adventure. After your arrival on the stunning Indian Ocean coast, we will transfer you to your luxury explorer ship. Get to know your Expedition Team and APT Cruise Director at a welcome briefing before dinner.
Stay: 10 Nights, Le Laperouse or Le Jacques Cartier
Daily : Dinner
Day 2: Lacepede Islands, Buccaneer Archipelago
The Lacepede Islands are Western Australia's most important breeding habitat for Green Turtles (Chelonia mydas) and have been named by BirdLife International as an Important Bird Area. Join your expedition team for a guided Zodiac tour to view the prolific wildlife. Later, your ship charts a course into the stunning Buccaneer Archipelago. Made up of more than 800 islands, and filled with stunning scenery and an incredible array of wildlife.
Daily : Breakfast, Lunch & Dinner
Day 3: Talbot Bay, Horizontal Falls
SIGNATURE EXPERIENCE
Today your ship cruises through to Talbot Bay, known for its massive 12-metre tides that create the unique Horizontal Falls. Subject to tidal conditions, board a Zodiac with your Expedition Team to view this natural phenomenon.  Explore Talbot Bay and Cyclone Creek. Accompanied by your Expedition Team Leader, you'll weave nimbly past the dramatic folds of rock formations, keeping a look out for local wildlife.
Daily : Breakfast, Lunch & Dinner
Day 4:  Freshwater Cove,  Montgomery Reef
At Freshwater Cove take a guided hike to visit an ancient Wandjina rock art site. The unique figures depicted are ritually repainted each year, but scientific estimates date the originals as far back as 5,000 years. Later, depart with your expedition team to discover Montgomery Reef by Zodiac. The reef 'rises' out of the ocean as tidal waters cascade into surrounding channels.
Daily : Breakfast, Lunch & Dinner
Day 5: Prince Frederick Harbour, Hunter River, Mitchell Falls
You are transported to Prince Frederick Harbour today, which is home to towering red cliffs and tangled mangroves. With its extreme tides and pristine ecosystems, the harbour is rich in wildlife including mudskippers and saltwater crocodiles. Keen birdwatchers should keep a careful eye out for kingfishers, egrets, herons and white-bellied sea eagles. Stepping out from the sleek comfort of your luxury expedition ship to your trusty Zodiac, it's hard to believe you're at Australia's final frontier, this time to explore the Hunter River and Naturalist Island. As your day of discovery draws to a close, you might choose to set out on a thrilling helicopter flight to see the Mitchell Falls in all its splendour from above (flight at own expense).
Daily : Breakfast, Lunch & Dinner
Day 6: Bigge Island
SIGNATURE EXPERIENCE
Approximately six kilometres from the mainland, Bigge Island is ripe for discovery today. It's well known for its Indigenous rock art, created by the Wunambal people, and you'll explore a network of caves throughout the island. Here, discover paintings that display fascinating examples of first-contact art and Wandjina figures.
You continue to cruise north along the Kimberley Coast towards your final destination, Darwin, bound for another encounter with ancient art.
Daily : Breakfast, Lunch & Dinner
Day 7: Swift Bay
Explore this maze of islands, inlets and peninsulas, believed to have been named by explorer Lieutenant Phillip Parker King after novelist Jonathan Swift, author of Gulliver's Travels. Most significant here are extraordinary examples of Wandjina and Gwion Gwion (Bradshaw) rock art, estimated to have been created between 5,000 and 13,000 years ago. They can be seen in caves close to the water's edge, mainly painted on rock overhangs.
Daily : Breakfast, Lunch & Dinner
Day 8: Vansittart Bay, Jar Island
This morning join your Expedition Team on an intriguing discovery. Walk across salt flats to view the wreckage of a US Air Force DC3 which crash-landed near Vansittart Bay during World War II. Later, visit Jar Island and discover the island's outstanding rock art gallery. During your exploration here, you'll see more examples of Gwion Gwion (Bradshaw) paintings, dating back more than 20,000 years.
Daily : Breakfast, Lunch & Dinner
Day 9: Koolama Bay, King George River and Falls
Signature Experience  –  Anticipation builds as your Zodiac approaches King George Falls, which plunge 80 metres over a soaring sandstone cliff. Edge closer to this epic cascade and learn how it turns to a raging torrent during the monsoonal wet season.
Wake this morning as your ship cruises into Koolama Bay. Hear how this harbour was renamed following the Japanese bombing of the MV Koolama in 1942. Next, it's onto the King George River. Join your Expedition Team and jump aboard a Zodiac to meander through the river's gorge system, passing mangrove-fringed coves and sheer red cliffs.
Daily : Breakfast, Lunch & Dinner
Day 10: At Sea
Relax and ease into a full day at sea, enjoying the endless horizon. Perhaps take a swim in the onboard pool, pamper yourself in the wellness area, or head below deck to your luxury ship's underwater observation area for a stunning window into marine life below the ocean's surface.
Daily : Breakfast, Lunch & Dinner
Day 11: Disembark Ship, Depart Darwin
Arriving into Darwin this morning means it's time to say goodbye to your ship and to be transferred to the airport.
Daily: Breakfast
Terms & Conditions
*Terms & Conditions:
Bookings subject to availability.
Prices are per person twin share, in Australian Dollars.
Pricing correct as of 13 October 2023  and may fluctuate due to changes in availability, surcharges, fees or taxes.
Savings are based on the standard brochure rate of this cruise, and have already be deducted from the featured rates.
Featured rates include discounts provided by APT. This special can be withdrawn without notice at any time.
Standard Travel Club Terms and Conditions apply.
This cruise is offered and managed by APT and their terms and conditions apply.
No airfares are included in the featured package, but assistance with booking can be provided.
Cancellation and change fees apply. Bookings are non-transferable.
Travel insurance is not included in the package. Please ensure you have valid Travel Insurance, or request a quotation.
Travel Flex guidelines
If you wish to purchase under the Travel Flex promotion you can do so if you are a Gold owner or above. There are limits as to how many credits you can use, these are capped for each tier as per below:-
Gold Owners can use a maximum of 60,000 available WMTS credits.
Platinum Owners can use a maximum of 90,000 available WMTS credits.
100 Club Owners can use a maximum of 150,000 available WMTS credits.
In addition to using credits, You must provide a Housekeeping Token for the first 19,999 credits and a further Token for each additional 10,000 Lifestyle Qualified Credits exchanged for Travel Flex. If you do not have enough allocated tokens per above, a fee of AU$124 is payable per 10,000 credits (or part thereof) exchanged. Your credits must have a minimum of 6 months / 180 days validity for use with Travel Flex.
Any difference in cost for the travel plans after utilising the promotion would be payable on a cash basis, either via credit card or direct deposit